Just off the railway line that links the centre of Frankfurt to its airport, the busiest in Germany, there is a mural that greets thousands of travellers each day. It is the oversized face of former Eintracht Frankfurt player Tony Yeboah. And he has a message.
"We are ashamed for everybody who screams against us." Those are the words written in German in huge red letters on the side of the five-storey building that has become known as 'The Tony Yeboah House'. It is a quote from an open letter written over 30 years ago.
Together with Wattenscheid striker Souleymane Sane, father of Germany international Leroy Sane, and Anthony Baffoe of Fortuna Dusseldorf, these three Black men took a stand. They called out the racism that they were facing inside the stadiums and on the streets.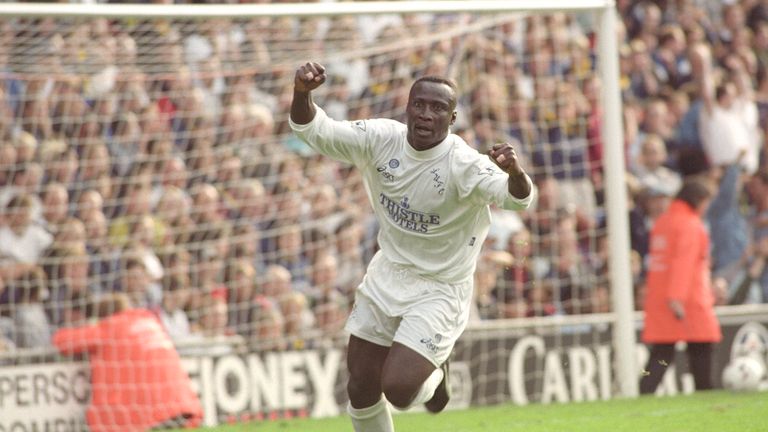 That statement brought the matter to public attention and came to resonate strongly thanks to Yeboah's status. Among British audiences, he is best known for several spectacular Premier League goals for Leeds United, where he remains a cult hero to their fans.
At Eintracht Frankfurt, he is so much more.
Yeboah was the first Black captain in the Bundesliga, thriving in the face of overt racism. He was the league's top scorer twice, winning hearts and minds because of his brilliance. As Eintracht Frankfurt president Peter Fischer explains, his role cannot be overstated.
"Tony Yeboah is an absolute legend in Frankfurt," Fischer tells Sky Sports. "He was not just an outstanding player who thrilled fans across the generations with his technique and skill, and who has remained in people's memories because of that. He was and remains an important player when you look back in a socio-political context.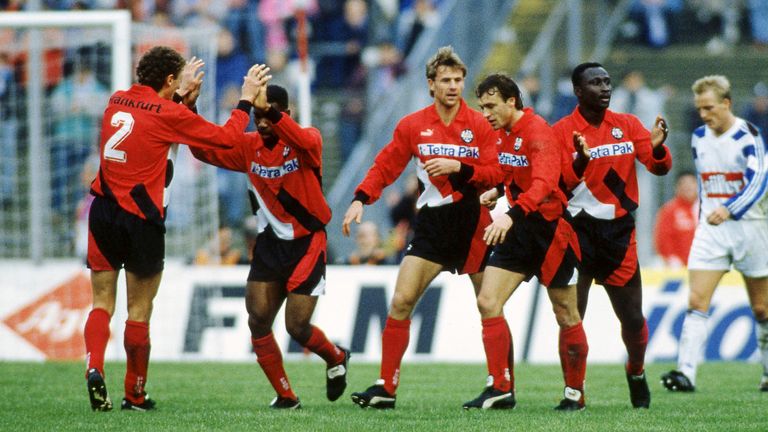 "At the beginning of the 1990s, when you could still regularly hear examples of racism in German stadiums, Tony made a significant contribution to the political stance adopted by our fans, who took their first clear stand against racism, anti-Semitism and exclusion."
The 'United Colors of Frankfurt' campaign was first launched in 1994 and lives on to this day. Among the club's supporters inspired by the initiative was artist Mathias Weinfurter. He is the man who designed the mural of Yeboah that was unveiled in 2014.
"The idea arose from an overlap of interests," Weinfurter tells Sky Sports. "I studied art and I am also a supporter of Eintracht Frankfurt so I know that there is a lot of collective power in that fan culture. I am also interested in socio-political engagement and I believe that these kinds of statements can have great significance."
Yeboah's popularity is undimmed. He has signed the mural himself and was part of the celebrations when the club won the Europa League last year. "That is why role models like him are excellent for making this kind of political statement," says Weinfurter.
"Even if someone cannot relate to him because of his stance on racism, as a player he is untouchable in Frankfurt. That is sad at the same time, because his example shows that it took this outstanding sporting performance for many to accept him."
Yeboah's message has had a lasting impact on the club.
"Eintracht stands for anti-racism and integration like virtually no other club in Germany," insists Fischer. "Frankfurt as a city is such a melting pot, and a lot of people who live here are from an immigrant background. Our first-team squad are also a very mixed group."
He adds: "We strive each day to ensure that skin colour and religion are of no importance. On the pitch and in the stands, our position is very clear. We set this out in our articles of association and over 133,000 members have agreed to this stance by signing up."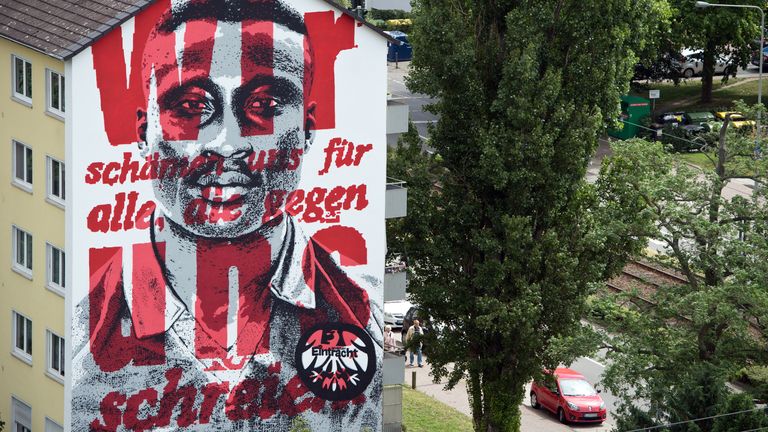 Unfortunately, the wider situation in Germany is more complicated.
The issue came to the fore in 2020 when nine people were killed in Hanau in an apparently racially motivated attack. A recent survey found that 54 per cent of Black people in Germany had experienced racism with one in five facing repeated threats or harassment.
For Weinfurter, that reflects what he is seeing too.
"Like many others, I see that the political climate in German society is changing. A party that stirs up racist resentment is in the Bundestag, the federal government is pursuing a regressive asylum policy, entire police units are conspicuous for racist chats and acts.
"Attacks like in Hanau are not isolated incidents."
All of which only makes these symbols more important. "To fight racism in Germany, we need more than a painted house wall at the moment, but I hope that some of those who see the wall will gain strength and know that they are not alone in this," says Weinfurter.
"I think that we should use every opportunity to make statements against racism or other forms of marginalisation such as anti-Semitism, sexism or homophobia. The socio-political climate can change. But a monument like the Tony Yeboah mural remains."