Winning a major tournament is never easy. There are far too many variables, too many uncontrollables, to stop the best-laid plans going oft awry.
England's route to Euro 2022 glory a year ago, as momentous and memorable as it was, was notable for its unusual serenity.
The Lionesses were cheered from stadium to stadium by raucous and sell-out home crowds, hit the ground running by scoring 14 goals without reply in the group stages and allowed manager Sarina Wiegman to name an unchanged line-up for every single match.
Sarina Wiegman says the England team are ready for their World Cup final against Spain, and insists she has no plans to leave her role any time soon.

Fast forward a year, the England manager may have been tempted to turn to divine intervention as a succession of selection, tactical and even political woes repeatedly threatened to derail her side's hopes at this summer's World Cup.
That England have reached a second successive final under her leadership, and she herself is in a fourth as an international manager, is all the more impressive for their woes.
Losing one of Leah Williamson, Beth Mead and Fran Kirby would make England's history-making run a tougher prospect. Doing it without all three is a different achievement entirely.
England and Arsenal forward Beth Mead says that the 'women's game deserves' an England World Cup victory.

Not only did it rob England of the kind of strength-in-depth which served as the backbone to their Euro 2022 triumph, it denied the dressing room some of its most seasoned winners. Eight of England's final World Cup squad had played 10 times or fewer for the Lionesses at the time of the announcement in May.
It also made the needless own goal by the FA to allow a row over bonus payments to fester from before Christmas until the eve of the tournament all the more frustrating.
Their embarrassment was sealed when an open letter, signed by a squad who would far rather have been preparing for the tournament than taking on their own governing body, expressed their collective anger that a resolution had not been reached after so long.
That's before you get to any of the on-field struggles. Perhaps it was logical England would need time to get into their stride after such a disjointed build-up. Stuttering to a 1-0 win over Haiti, the second-lowest-ranked team in the competition, was still not the start anyone expected.
I don't think you can take anyone as an underdog in this tournament," Alessia Russo told Sky Sports after England were given a rude awakening, and the first criticisms of the Wiegman era began to rumble.
Then there was the loss of Keira Walsh, whose suspected ACL injury clearly affected her team-mates mentally as they laboured to another victory by the same score-line against Denmark.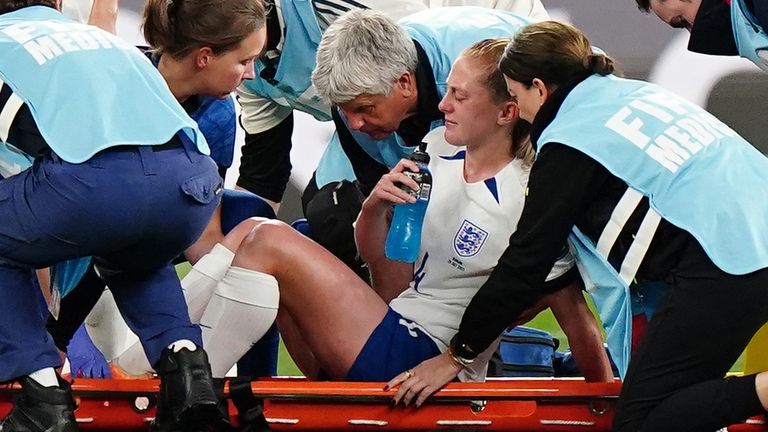 Though that thankfully proved a false alarm, Walsh's knock forced Wiegman to shuffle her pack – to the point where she moved away from the entire system she had honed during her two years in charge.
The 6-1 win over China in an unfamiliar 3-5-2 appeared a stroke of genius, but proved a false dawn as England's problems began to mount again in the last-16 victory over Nigeria.
Not only did the Lionesses progress by the skin of their teeth, with many of their nine lives used up in that penalty shoot-out win, but Lauren James' red card ensured England's player of the tournament would be ruled out of their next two games.
Jen Beattie, Izzy Christiansen and Becky Spencer look at England's remarkable achievement to get to the World Cup final, and discuss what an impact Sarina Wiegman has had on the team.

It never rains but it pours. And this was a monsoon.
"We have had many setbacks, this was a big one too," said Wiegman. Few could argue. Were many more to follow? Just the prospect of taking to the pitch at the 75,000-capacity Stadium Australia to face a hostile crowd for both the quarter-final victory over Colombia and, of course, Wednesday's 3-1 win over the hosts.
Luckily, and against the odds, England have peaked at the perfect time. They saved their best performance to silence the Australia-dominated support in that semi-final and make history in the process.
How can I follow the Women's World Cup final?
Sky Sports will be running a live blog covering the final from 9am on Sunday morning.
Follow our live coverage on skysports.com or the Sky Sports app.
There'll also be build-up and updates across the day on Sky Sports News.
That would be impressive in any year – there's a reason Sunday is England's first World Cup final.
To do it against this backdrop of adversity? The Lionesses may have been listed as the third-favourites for this tournament but after the challenges they have faced, they have shown serious resilience to achieve it.