Why Rapid eLearning For Technical Training
There has been a noteworthy shift toward a skill-based economy in recent times, and businesses are looking for people who possess sound technical skills, practical knowledge, and real-world experience. With rapid technological advancements, the skills gap is becoming a major pain point, and finding skilled employees is challenging for organizations. No wonder technical training is becoming indispensable and organizations are investing in it to build a future-ready workforce and win an edge over competition.
What Is Technical Training, And Who Needs It?
Technical skills are the practical skills that help employees perform their day-to-day job functions. They are the expertise and competence one requires to perform job roles efficiently. Technical training is sometimes misunderstood as IT training, but it is not so. Technical training encompasses the knowledge and skills needed to use a tool or software, follow processes, ensure quality, and more.
For instance, a healthcare professional must be savvy with the software that generates daily walk-in patients' reports for doctors in the hospital. Similarly, sales personnel must be proficient in using their Customer Relationship Management (CRM) software.
Why Is Technical Training Essential?
As per a 2019 SHRM research report, 83% of HR professionals found it challenging to recruit suitable candidates for about a year. This clearly indicates that the skills gap is real and gradually getting worse. With the rise in technological advancements across industries, upskilling and reskilling employees has become essential. Let's see how important technical training is for businesses to flourish.
1. Facilitates Career Progression And Builds A Productive Workforce
The modern workforce constantly looks for avenues to learn and grow. They feel demotivated and lose the spark to perform if they are not given ample scope to develop their skills. Continual technical skills training helps learners perform effectively and keep up with the latest industry trends. This enhances their productivity and boosts morale, resulting in a loyal workforce.
2. Saves Time And Cost
Technical training equips employees with the necessary know-how to perform specific job tasks. A well-trained employee can complete the assigned task in a stipulated time while ensuring quality. This, in turn, saves organizations time, cost, effort, and boosts business ROI.
3. Ensures Accomplishment Of Business Goals
When your employees possess the right skills, they contribute high-quality deliverables. They can also coordinate well with their teams as well as across functions to make informed decisions and cater to the accomplishment of business goals.
4. Reduces Business Risk
Knowledge leads to competency. Lack of technical training can make your employees less competent and hamper quality standards, putting your business at risk. For instance, if the Quality Check (QC) officer in a manufacturing plant fails to do the required QC as per current standards, production standards might fall, leading to poor-quality products. Similarly, if a warehouse in charge is not aware of storekeeping standards for perishable goods, you might find them unfit for sale.
5. Helps Win An Edge Over Competitors
In this fast-paced busy world, customers want quick fixes to their queries and grievances. When you have a workforce that's up to date and skilled, they can provide value-added customer service to outshine competitors and build a base of happy and satisfied loyal customers.
So far, so good. What is the best approach to deliver technical training?
Rapid eLearning For Impactful Technical Training
Technical training can be complex, as it focuses on imparting core job-specific skills. So, technical training content has to be engaging for immersive learning and better retention. If you are wondering how to make technical training content engaging and interactive, rapid eLearning is here to your rescue.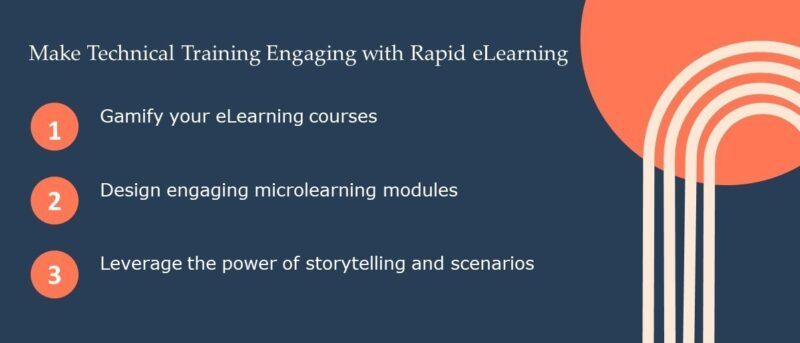 Using this approach, you can add interactivities to your online learning courses and drive learner engagement. Let's see how.
Engaging Microlearning Modules
Modern learners prefer quick and easy learning bites. Due to the complex nature of technical training, bite-sized learning nuggets can be extremely useful, as learners can consume them at their own pace at their convenience. This ensures just-in-time learning without information overdose.
Rapid eLearning can help create a variety of microlearning assets to make technical training highly impactful. Rapid authoring tools offer access to a rich multimedia resource library that can help you design interesting microlearning training videos to deliver complex concepts, such as the operation of complicated machinery.
Storytelling And Scenario-Based eLearning
Stories establish an emotional connection between the learner and the content. Rapid eLearning is based on sound Instructional Design principles and can help you design eLearning courses with an element of storytelling. This allows you to simplify complex concepts and present technical concepts, data, and logic in a simplified manner.
Using rapid eLearning, you can create branching scenarios and VR-based immersive simulations that help impart technical training in case of high-risk job profiles like that of doctors, military staff, and pilots.
Watch-try-do simulations are extremely helpful to allow hands-on practice for complicated software training programs. These scenarios and simulations help learners deal better with real-life work scenarios.
Gamification Of Courses
Adding gaming elements such as points, badges, levels, and leaderboards can instill healthy competition among learners and motivate them to complete courses. You can also design game-based eLearning courses to make dry subjects interesting. Game-based online training courses improve learner experience, make training enjoyable, and boost knowledge retention.
Avatar-Based Guided Learning Approach
Avatar-based guided eLearning is indeed an immersive learning experience for learners, especially for complicated process training such as service sales planning process training. It is challenging to deliver such complicated topics while keeping learners involved with the course content throughout the training.
Rapid eLearning is here to the rescue. Rapid eLearning authoring tools such as Vyond, Camtasia, and Adobe Captivate can be used to create animated videos with vector avatars of real employees. Using these tools, you can create characters to fit any context, be it specific jobs, workplaces, or casual environments.
It's A Wrap!
Technical training is gaining immense importance in today's competitive business landscape. Organizations are focusing on building a workforce that's technically sound and encouraging learning and growth to build a happier and well-equipped workforce. And rapid eLearning can work wonders. You can design engaging technical training content that will empower your workforce and help your company stay current and competitive.
CommLab India Rapid eLearning Solutions
Working with multiple outsourcing vendors can be stressful, and a waste of time & money. With CommLab India Rapid eLearning Solutions, all your online training needs are taken care of, rapidly and economically.