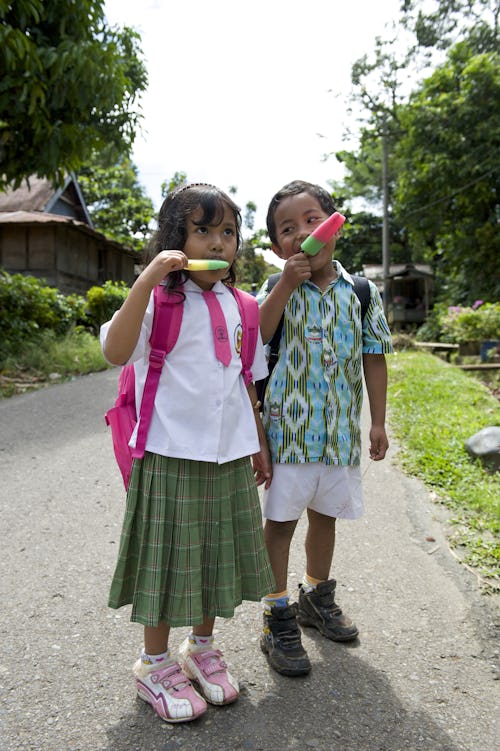 Back to school often brings to mind sharpened pencils and pristine notebooks, fall clothing and fresh haircuts, but every parent knows that the real MVP of a new school year is a fully stocked pantry because these kids just don't stop eating. Whether you need grab-and-go breakfasts for the carpool or bus, ideas for packed lunches, or after-school snack options to keep your kiddos fueled through homework sessions, club meetings, and team practices, Walmart is your one-stop shop for trusted brands at affordable prices.
Here are 12 of our favorite kid-pleasers that run the gamut from 100% fruit to cookies in disguise (sorry, animal crackers, the jig is up). We've chosen individually packaged, ready-to-eat snacks in bulk quantities because feeding kids during a busy school day can feel like launching a t-shirt cannon into a stadium crowd. Good luck, and game on.
ZBAR Organic Whole Grain Energy Snack Bars, Iced Oatmeal Cookie
We love these organic whole grain bars because they're like granola bars, only better: They're designed to keep kids energized with a great-tasting blend of protein, fats, and carbohydrates — without any high-fructose corn syrup or artificial flavors.
Walmart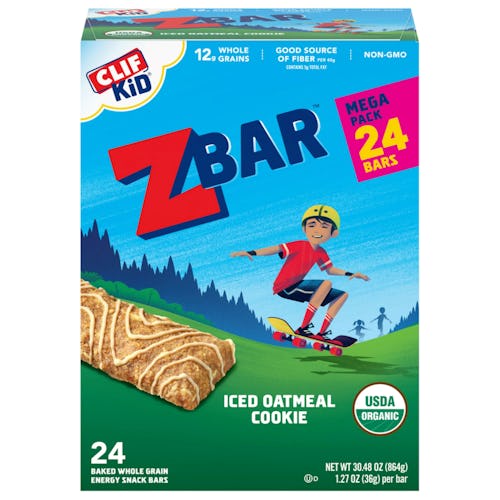 GoGo SqueeZ Fruit on the Go Snack Pouches
Elevate your applesauce game with these delicious, convenient pouches that pack half a cup of real unsweetened fruit into each serving. The handy "helicopter" lid is easy for little hands to open and close, and there's a built-in straw for no-mess snacking.
Walmart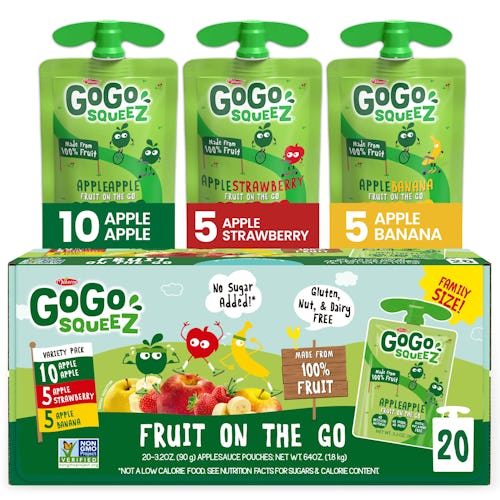 Goldfish Big Smiles Variety Pack
Including Goldfish here might be like putting LeBron James on a "best of" list of NBA players, but they're an iconic snack for a reason: kids love them and parents love that kids will eat them. Plus, they're baked with no artificial flavors or preservatives. So…. health food?
Walmart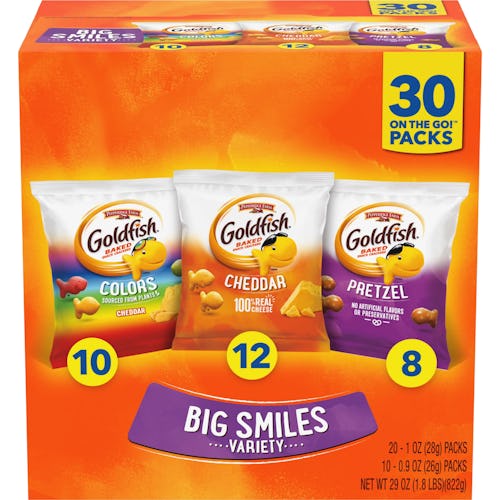 Nutri-Grain Bites Strawberry Chewy Soft Baked Mini Bars
We all strive to get breakfast on the table before the chaos of the morning commute gets underway, but some days you just have to launch breakfast at your child like you're throwing a touchdown pass. These sweet strawberry Nutri-Grain bites have vitamins, minerals, and 8g of whole grains, in a convenient grab-and-go pouch.
Walmart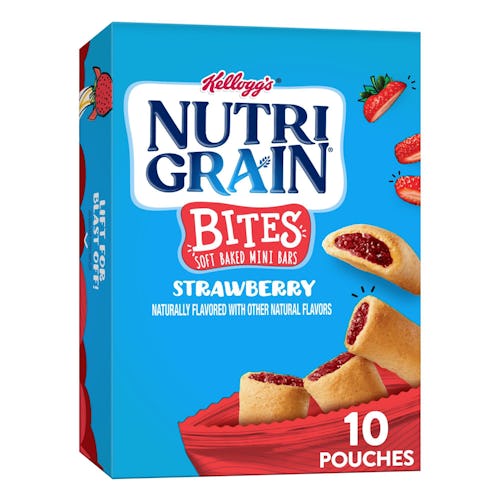 Quaker Rice Crisps Sweet and Savory Variety Pack
More fun than crackers and more wholesome than chips, these Quaker Rice Crisps are gluten-free and have 9-10 grams of whole grains per serving. Caramel and Apple Cinnamon are perfect for sweet-toothed snackers, while Cheddar and Buttermilk Ranch pack a savory crunch.
Walmart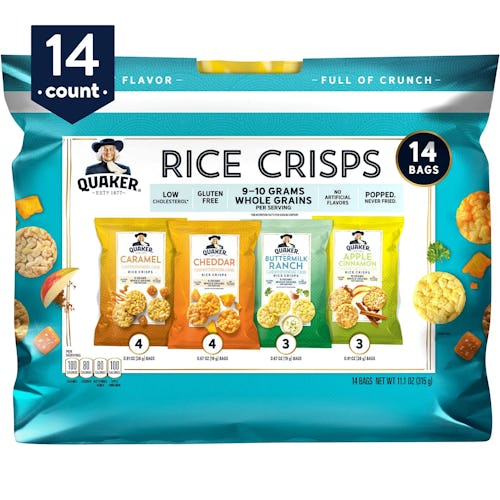 Frito-Lay Assorted Flavor Mix Variety Snack Pack, 28 Count
Let's just call this the All Bangers Variety Pack. Most bulk chips have at least one flavor that no one likes, but this is an A-team of crowd-pleasers: Rold Gold pretzels, Sour Cream & Onion Lays, Cool Ranch *and* Nacho Cheese Doritos, Smartfood Popcorn, Cheetos Puffs *and* Crunchy Cheetos, and Harvest Cheddar Sun Chips.
Walmart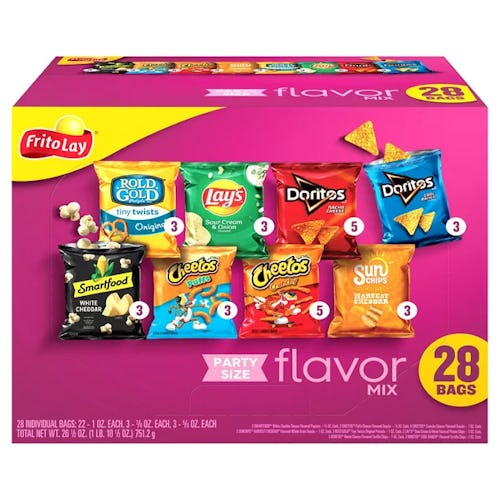 That's It. Mini Fruit Bars Blueberry, Strawberry & Mango Variety, 24 Count
If you're looking for a sweet but healthy snack, you can't do much better than these two-ingredient, all-fruit mini bars with no added sugar for a quick burst of wholesome energy.
Walmart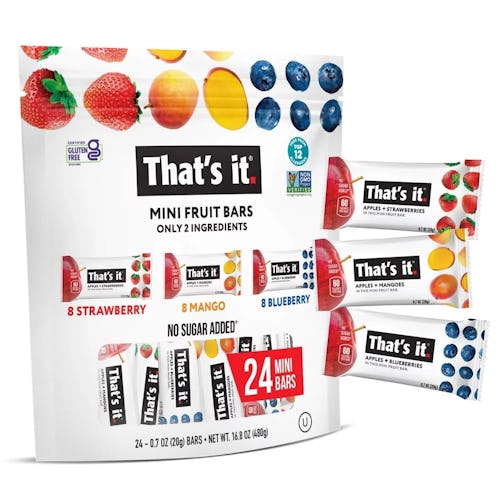 Garden Veggie Straws Variety Pack, 24 Count
Listen, they're called Garden Veggie Straws so we're going to assume they're basically the same as eating broccoli and we encourage you to do the same. Try Sea Salt or Zesty Ranch for a crunchy, satisfying snack that has 30% less fat than the leading brand of potato chips.
Walmart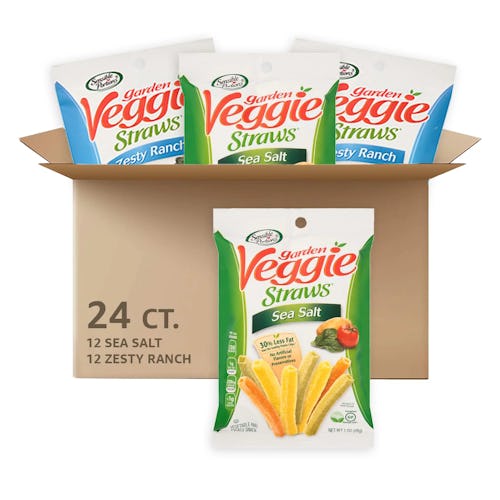 Kellogg's Scooby-Doo Grahams Variety Pack, 36 Count
You can buy regular graham crackers, sure, *or* you can buy Kellogg's Scooby-Doo Graham Cracker Sticks that look like real dog bones, which — as any pet food-curious child can attest — is pretty much the dream.
Walmart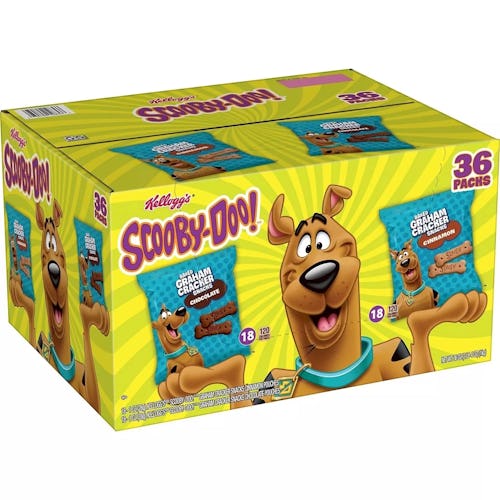 Sargento Balanced Breaks Natural White Cheddar Cheese, Sea-Salted Roasted Almonds, Dried Cranberries, 6-Pack
For the discerning snacker who wants their afterschool nosh to look like a charcuterie plate, Sargento's Balanced Breaks combine natural white cheddar cheese, sea-salt roasted almonds, and tart, dried cranberries for a protein-packed snack that's under 200 calories.
Walmart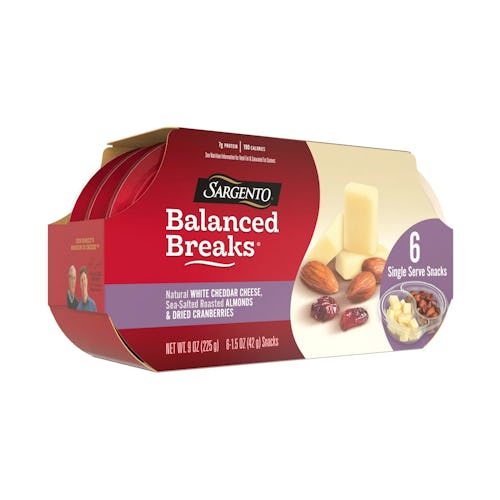 Lance Sandwich Crackers Variety Pack, 8 Count
Lance may not be the most recognizable name in snack crackers, but with flavors like "Grilled Cheese," "Peanut Butter & Honey," and "Cream Cheese & Chives," this savory variety pack sounds like it's gunning for a Michelin star and we're here for it.
Walmart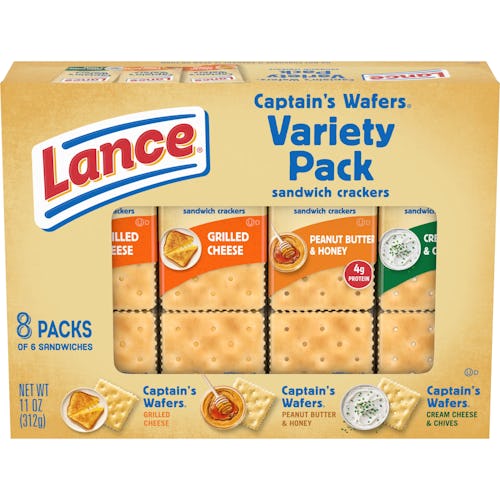 Stauffer's Animal Crackers, 12 count
Oh, animal crackers. You're not quite a cracker, not technically a cookie. We love an enigmatic snack that's not afraid to embrace its multitudes! And at this kind of discount, how could we say no?
Walmart