How Blended Learning Can Drive The Best Results
Businesses must scale sales to earn profit. Having a good offering, be it a product or service, is just half the job done. Your sales team needs to close potential sale deals efficiently. Not only this, but service technicians and customer support executives must attend to customer queries and grievances after the actual sale to ensure a smooth buyer experience. No wonder it takes much more than just launching an awesome product in the market to drive good sales and outshine competitors. And what's that? An impactful product training that equips your team to hit the ground running. Read this article to know all about product training and how the blended learning approach can help you deliver it best.
Importance Of Product Training
A good product needs a good salesperson to sell it across. Say you market the product well and the customer is convinced to buy it. If your sales personnel fails to pitch the right product that suits different customers, you might lose the deal. Post-sale service is equally important to ensure repeat customers. And the onus lies on the service technicians and customer support executives to offer top-notch solutions to customers' queries and grievances.
What's the solution, then?
Well, you need to focus on chalking out impactful product training programs that provide the essential knowledge, tips, and tricks to build a workforce that can crack the code for impressive sales. It might sound simple, but it requires a well-thought-out strategy to design your product training programs. Wondering why? The answer is simple. Modern-day businesses are dynamic, and innovation is the key to outshining competition and making a mark in one's terrain. No wonder new products are popping up to dazzle the world with their innovative features. Now, that calls for continuous upskilling and reskilling of your employees to equip them with the desired skills and knowledge about the new products or additional features and benefits of existing products.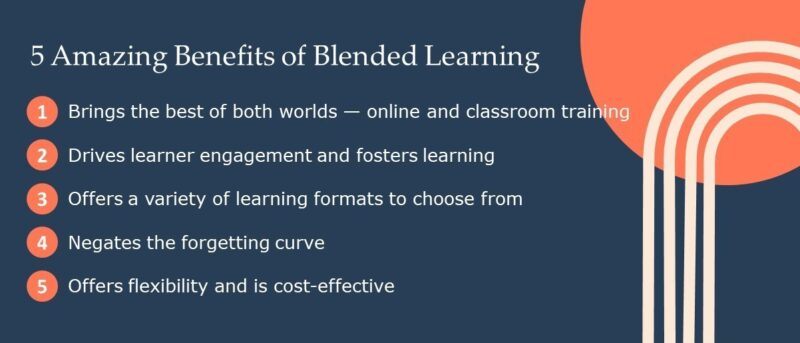 Why Is Blended Learning The Best For Product Training?
There is no doubt that every employee in your organization must be aware of the new products and services you are adding to your product line. But it is the sales team, service technicians, and customer support executives who need rigorous product training. So, your audience is a mix of on-field and desk employees. And that calls for a strategic and agile training approach to accommodate the variety of training needs and preferences of different learners.
Well, when you have a heterogeneous mix to train, how can you think of a one-size-fits-all approach? In such a scenario, it is best to offer a mixed platter to satiate unique learner needs. Yes, you are right! I am talking about blended learning. For those who are new to the world of Learning and Development, blended learning is an approach that offers a blend of various training formats. The approach brings the best of both worlds—online as well as classroom training. Under the umbrella of blended learning comes a variety of online training formats, like eLearning, microlearning, and Virtual Instructor-Led Training (VILT), that allow you to blend the training program that best suits your learners.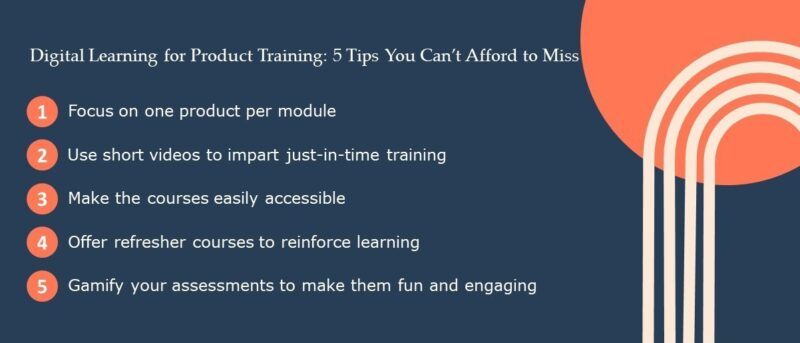 Watch a relevant video.
Blended Learning Assets For Product Training
Now that you are aware of the various blended learning formats, let's take a closer look at them and see how we can mix and match them to impart effective and engaging product training.
eLearning
eLearning is a training format that enables learning via digital platforms using technology. This format has gained extreme popularity post-pandemic, as it emerged as a viable solution to offer continual training for a scattered remote workforce. eLearning is based on the principles of sound Instructional Design and adult learning that ensures the courses are engaging and interactive to grab and sustain learners' attention throughout the training program.
When it comes to product training, eLearning could be highly effective. Your on-field sales reps and service technicians can take up self-paced eLearning courses at their convenience. eLearning courses can acquaint your learners with the newly launched products in detail. To make the courses interactive, use guided learning where you can use the avatars of the sales head or the senior sales manager to walk the learners through the features and benefits of the product rather than making them read text-heavy PowerPoint slides.
Scenario-based eLearning courses motivate your learners to think critically and make judicious decisions. You can build real-life scenarios to train your sales reps to pitch the right product to the right customer. Scenarios can also help your customer support executives think through the apt responses for challenging customer queries. eLearning courses detailing the product functionalities can help service technicians understand the nitty-gritty of the products to provide top-class maintenance and repair services.
Microlearning
Microlearning is the new flavor in the corporate L&D space. The power-packed microlearning bites that focus on a single learning objective per module are the favorites of today's modern learners due to the flexibility they offer. You can choose from a variety of assets to make training fun and engaging. A few popular microlearning formats are videos, interactive PDFs, eBooks, podcasts, digital flashcards, and infographics.
This learning format is a boon for product training, as it offers just-in-time learning, especially for your on-the-move sales reps and service technicians. Your sales reps can have a quick look at the digital flashcards or infographics that entail key product features and benefits before important client meetings. This boosts their confidence and results in easy and seamless closure of sales deals. Similarly, a quick video on product functionalities can be handy for service technicians at customer sites to resolve issues. Your customer support executives can listen to podcasts by senior sales managers where they share valuable tips and anecdotes about handling challenging customers. This would help them handle critical customer objections skillfully.
Virtual Instructor-Led Training
As the name says, Virtual Instructor-Led Training, or VILT, is a virtual replica of conventional classroom training. This learning format works wonders for a remote or hybrid team, as it brings the essence of authentic classroom training in a virtual setup. Your learners enjoy the luxury of interacting with the trainer as well as peer learners. Features like group chats and breakout rooms allow them to interact, brainstorm, and learn from each other and clarify doubts instantly.
The potential audience for product training is usually scattered, as you have a mix of in-house and on-field employees. It is challenging to gather them for combined classroom sessions. VILT is a fantastic alternative when it comes to training them together for new product launches or discussing new sales strategies. The platform brings the opportunity for the scattered team to be together and learn from each other, discuss and think through the challenges to excel and augment sales.
Blended Learning: The Way Ahead To Impactful Product Training
Blended learning is the talk of the corporate L&D town. Hope this article provides you with insights into various learning formats and how to blend them to design the perfect product training program for your team. When you offer a mix of different learning formats, it drives learner engagement and induces active participation. The approach allows you to try and test different combinations to see what works best for your business and learners. The blended learning approach negates the forgetting curve, which leads to better productivity, performance, and increased sales. Are you ready to unleash the potential of this learning format and drive sales to boost your business ROI? Well, I can hear a resounding "yes"!
CommLab India Rapid eLearning Solutions
Working with multiple outsourcing vendors can be stressful, and a waste of time & money. With CommLab India Rapid eLearning Solutions, all your online training needs are taken care of, rapidly and economically.