"The way we play, we are very dominant – but that's not always going to win the game. You have to bring that fire and play ugly, and that's what we will need on Sunday."
Manchester City midfielder Jill Roord only has one thing on her mind – beating Manchester United in her first Manchester derby this weekend, live on Sky Sports.
One of the biggest games of Man City's season comes at an already critical moment. They have lost their last two WSL matches – one against Arsenal, the other a shock defeat to Brighton last weekend – with no winner of the league title ever losing more than two matches.
Highlights from the WSL clash between Manchester City and Brighton

"In both games, we had the better chances," Roord reflected. "That's one of the things we have to do better going forward, scoring our goals, being more patient and effective.
"We have to control and we are dominant, but sometimes be a bit more passionate and have a bit more fire in the team."
Those buzzwords of 'passion and fire' are sprinkled throughout our interview, and it can be guided back to a successful two-season spell with women's football powerhouse Wolfsburg.
While in Germany, Roord won three major titles, and was a runner-up to Barcelona in last season's Champions League final. The Netherlands international believes there are cultural differences that Man City can adopt to help turn around their slight dip in form.
"Everywhere you go, you always learn new things and also take thing with you," Roord began.
Highlights from the WSL clash between Arsenal and Manchester City

"The culture in Germany is very different from here and also the way we used to play in Germany, there was a lot of passion and fire and that is the biggest thing there. They don't care about how they play, it's all about winning.
"Here at City, we care too much about how we play and we should care more about needing to win. That's something that I can at least tell the team."
While teams around them saw multiple incomings and outgoings, Roord was Man City's only arrival this summer from Wolfsburg.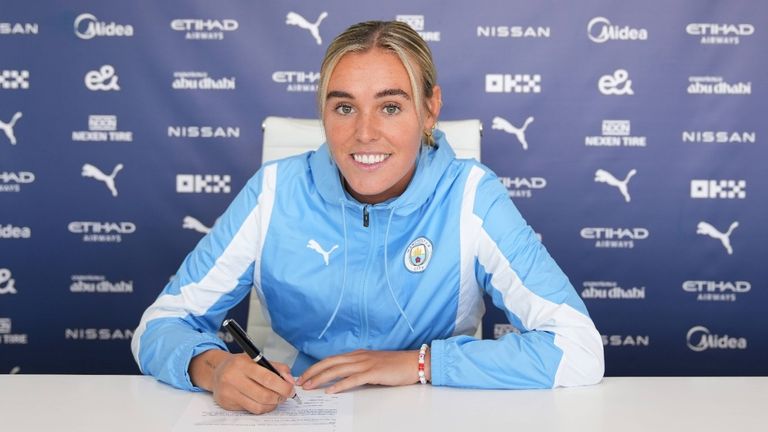 There were perhaps questions on both sides – why would the midfielder leave a team that had just reached a Champions League final? And why did Man City not target anyone else?
But for the most part, those questions have been answered. The 26-year-old has found a team that suits her playing style far better, and in return, Roord is Man City's top scorer in the WSL with three goals.
It follows on from her four goals at the Women's World Cup – the most goals a Dutch player has ever scored in a single women's tournament.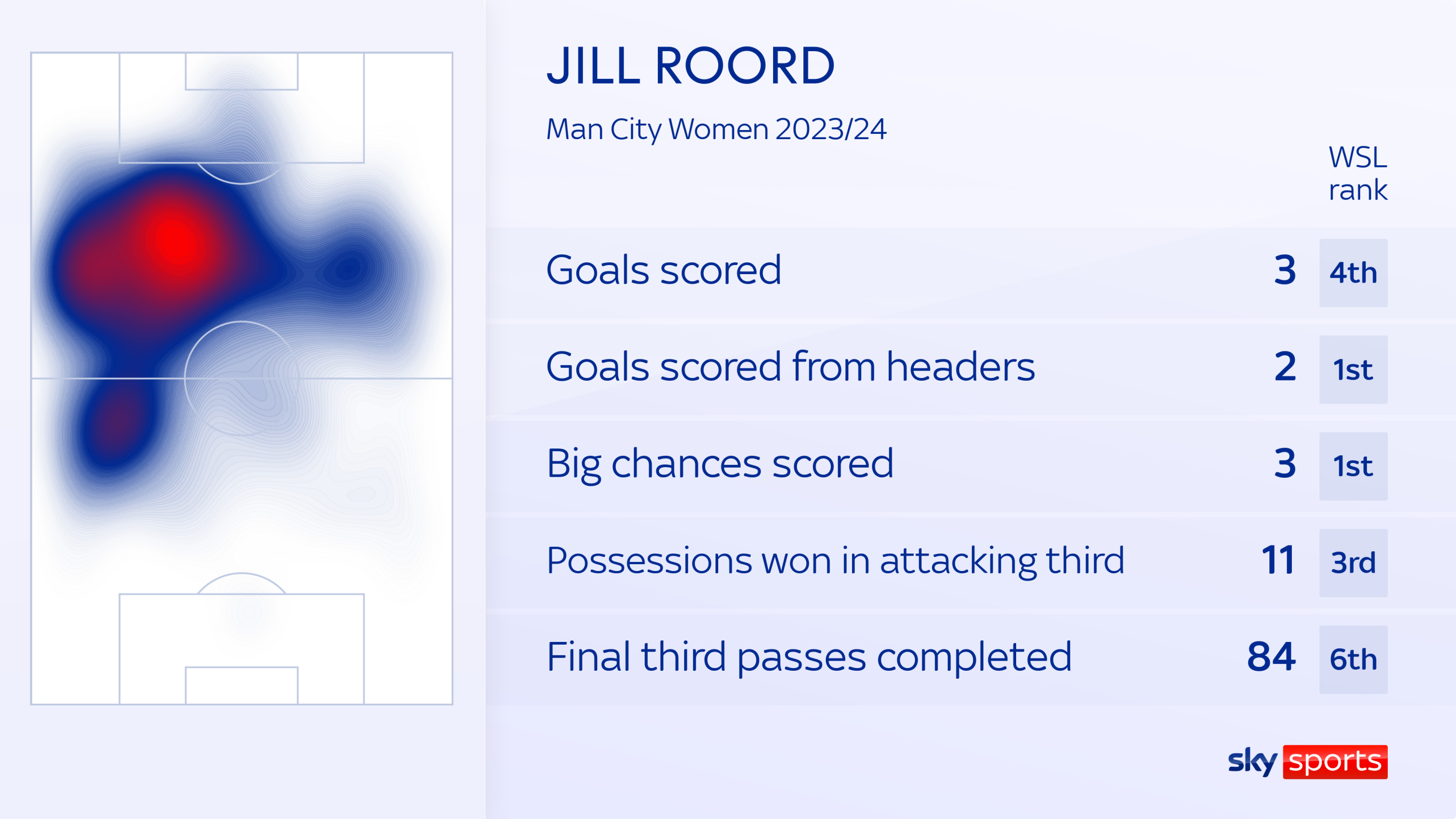 "The way City play is we have control of the ball and want the ball all the time. In Germany, it's more direct football," she explained.
"My strengths are also when I have the ball. It's not running without the ball and those things, it's when I have the ball. In this team, I get the ball a lot more than I got at other clubs, that's just the way they play here.
"I learnt a lot of new things here, I think I can show myself better here than I could in other teams.
"Maybe not if you ask a midfielder or defender, but for any offensive player, scoring and assisting is the best thing.
"That's what the game is about and what makes me different from most midfielders is that I can score a lot and that's something I'm always looking for.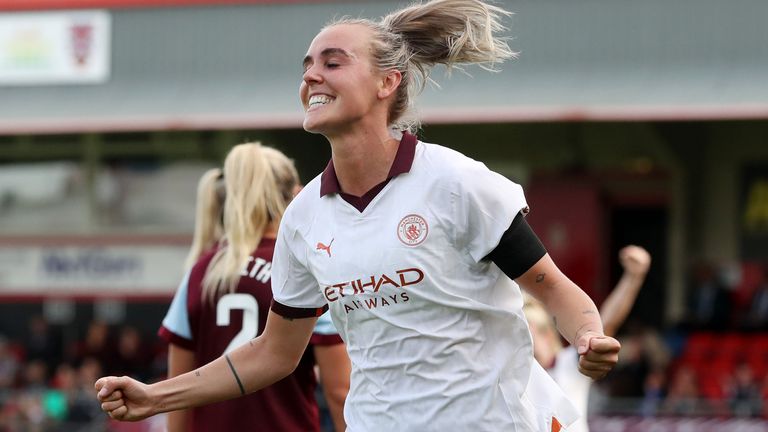 "There are some weeks that it goes better than others, that's just how football is, but it's something I'm always looking for.
"I think I'm pretty down to earth. Man City and other people expect a lot from me, but I'm used to that and I also don't mind it. I hope every game I can bring what I can."
Pressure and attention is nothing new for Roord. At the age of 20, she won Euro 2017 with the Netherlands and was managed by current England boss Sarina Wiegman. Shortly after, her manager at Bayern Munich, Thomas Worle, called her 'one of the greatest talents in Europe'.
Jill Roord on Sarina Wiegman…
"We've played her a couple of times now so it gets more normal, but it's still sometimes weird to see. As a Dutchwoman, we're so used to having her on our team and she is the coach of England.
"For me in my early years, she was amazing and we won a lot and right now with England, she has done the same.
"At the same time, I hope at some point it will stop and we can beat her, it worked out in the last game!"
Now six years on, Roord remains one of women's football's biggest and most recognisable talents, recently finishing joint-30th in the Ballon d'Or shortlist.
But how does someone of such a young age handle those kinds of plaudits and spotlight?
"It's difficult, but it's also part of football," Roord said. "Sometimes, especially when you're young and the pressure is new, it can become a bit too much.
"You learn from that too, it's not always comfortable but you have to be comfortable being uncomfortable. For me, there have been tough times and then times when the attention is amazing. A career is up and down like that.
"I would say trust yourself and care about what the people around you think and not too much about everything else."

Sunday 19th November 4:00pm


Kick off 4:30pm

For now, the laser focus will be on Sunday's Manchester derby, live on Sky Sports. It will be Roord's first experience of the game as a Man City player, which will be played at Old Trafford – just to notch the pressure dial up even further.
Along with Chelsea, Man Utd are the only other unbeaten team in the WSL this term, but the midfielder is confident that if Man City play their game, they can inflict the first defeat of the season on their opponents.
"They are a very good team, like us," she said. "They play different than us, but at the same time, I think it's always a difficult game for us. We want to win and take control in the game.
"I think the biggest challenge is ourselves. If we play our game, if we are dominant and if we are brave, I'm confident that we are better and we can win.
Check out the best Manchester Derby goals ahead of the big game on Sunday, live on Sky Sports

"If we don't bring that fire, then it's going to be a tough game and they have players with quality. For us, this is a very special game and for all the fans as well. It's a derby and we have to win.
"The whole atmosphere around it is huge. This is the biggest game in the league for us and in a big stadium is very exciting. It's been on my mind for a few days and I'm really looking forward to it."
Of course, the passion and fire Roord believes Man City needs will also be on her mind as they look for a derby day upset at Old Trafford on Sunday.
Watch Man Utd vs Man City live on Sky Sports Premier League and Football from 4pm; kick-off 4.30pm.