Harry Kane has had an "immediate effect" on Bayern Munich's changing-room atmosphere and is expected to make his first start for the German champions against Werder Bremen, live on Sky Sports on Friday.
The England captain completed his £100m move and made his debut on Saturday, coming off the bench in his side's 3-0 German Super Cup defeat to RB Leipzig – hours after being announced as a Bayern player.
Kane indicated on Sunday that he might need time to adapt to his new club after 19 years at Tottenham.
But Tuchel said Kane will start Friday's game "if nothing happens [in training on Thursday], nothing extraordinary," and added he was fitting in well with the rest of the Bayern team.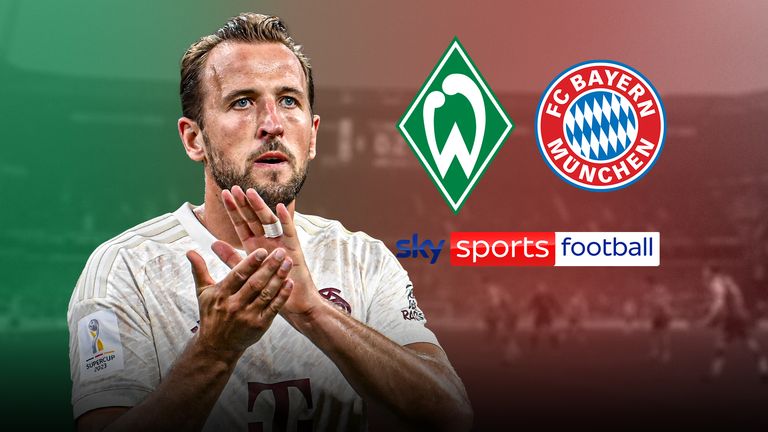 Friday 18th August 7:15pm


Kick off 7:30pm

"My first impressions of Harry are fantastic. He is a top professional, the quality is outstanding and he's a fantastic human being, he is very open, he's first on the training pitch, he is open in the dressing room," Tuchel said.
"I think he has immediate effect in the dressing room with his personality, with his approach to football, his love for the game, you feel it every day. You feel it in every little exercise."
Excitement levels in Germany over Harry Kane are reaching fever pitch, with the Bundesliga creating a welcome video that pokes fun at his previous, trophyless record

Tuchel added that injured first-choice goalkeeper Manuel Neuer is further along in his recovery than expected after recent surgery and could return to training with the rest of the team in a matter of weeks.
"The development with Manu is extremely positive," Tuchel continued. "I saw him training myself the last couple of days. I'm no recovery expert, obviously, but what I saw was very impressive.
Speaking as a Bayern Munich player, Harry Kane insisted he needed to move to Germany to push himself and is raring to go in a new league

"It looked very good and so we are counting on a return to team training in the coming weeks, and that obviously has effects on our planning."
Tuchel added that "the priority in any planning is basically to give Manu time and rest to get healthy and get back into the goal, and at the same time we obviously want to be competitive at a very high level."
The Super Sunday panel discuss Harry Kane's move from Tottenham to Bayern Munich with Roy Keane saying that the club have cashed in for the England captain

The 37-year-old Neuer hasn't played since last year's World Cup. He broke his leg while skiing after the tournament and needed another operation recently to remove metal implants from earlier surgery.
That could affect Bayern's search for a new goalkeeper after playing against Leipzig with long-time backup Sven Ulreich in goal, and whether the club signs any new 'keeper to challenge Neuer for the starting spot or simply as extra cover behind Ulreich.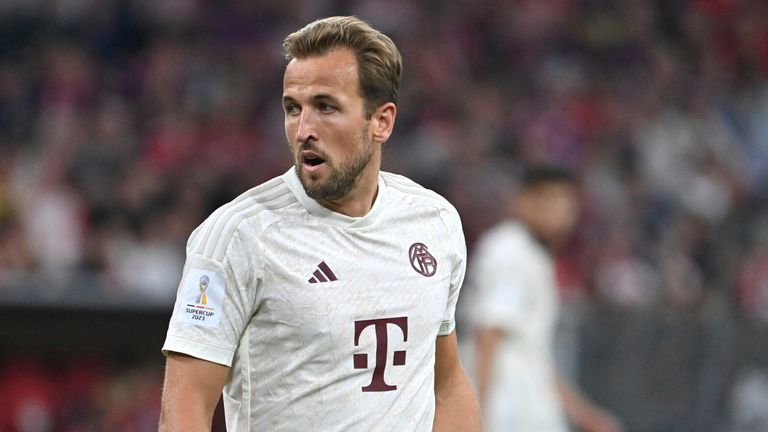 Kane on learning German…
Kane to Sky Sports:
"There is a German teacher here who I will have one on one lessons with once or twice a week.
"It will be starting with the basics. I'm not sure I'll be fluent any time soon but to try and understand as much as possible and sometimes when the coach is talking in German to try and understand that.
"But everyone has been great. Guys talk English here as well, so they have been helping me out with everything.
"We'll have to see how long it takes to learn a few more words."
Tuchel said on Thursday on that Bayern were still looking for a goalkeeper but didn't say what that player's role in the squad would be.
Bayern chief executive Jan-Christian Dreesen said last week the club had tried and failed to sign Kepa Arrizabalaga before he opted for Real Madrid on loan from Chelsea.
Harry Kane sends his congratulations to the Lionesses after they beat Australia 3-1 to reach the women's World Cup final

More recently, Bayern were reported to be interested in Manchester City back-up Stefan Ortega, while they were in for David Raya before he joined Arsenal.
Sky Sports News is also looking into reports in the UK press linking Bayern with David De Gea.
Bayern had Switzerland goalkeeper Yann Sommer as a stopgap last season when Neuer was injured, but he left for Inter Milan this month.
'Winter break will help Euros bid'
Kane on experiencing a winter break for the first time:
"That will help for sure. We all know how busy and packed the schedules are, especially in England with the Premier League and all the competitions.
"Having a winter break will be a nice experience. It will be nice on the body to rest and recover over the period, and of course, going into the European Championships next summer that will allow me to have a bit more rest than I usually have."
'If team win, individual awards will look after themselves'
Sky Sports News reporter Paul Gilmour reports on how the locals in Munich, as well as his new team-mates, are welcoming new signing Harry Kane

Kane is fully focused on helping Bayern have a successful season and if he can help his new side achieve that, and potentially help England win next summer's European Champions, individual honours like the Ballon d'Or could follow.
When asked about individual honours, he said: "If you are winning your league and winning the Champions League, and obviously we have the European Championships next summer as well, and as we've seen with the Ballon d'Or you have to be winning team trophies to achieve that.
"If I'm scoring goals and we are winning trophies then of course that will come into question, but it is not really what my focus is on right now."
Has Kane had his round of golf with Thomas Muller yet?
Kane to Sky Sports:
"I haven't done that yet. Maybe next week we have a bit more time in afternoons. I'm sure we'll get it in especially with the weather being nice.
"It's all part of getting to know my team-mates.
"Thomas is a great leader and a great personality in this team so I'm sure he'll help me understand all the other players, and hopefully we can build a good connection."
And when Kane looks back on his career what would constitute success, honours for club and country?
He said: "It's hard to put a number on how many trophies you want to win but I have always said throughout my whole career I never want to retire and feel like I could have done more or I could have pushed myself a little bit more.
The best of the action from the DFL Supercup match between Bayern Munich and RB Leipzig in which Harry Kane made his debut for his new club

"That was a big part of the decision-making process of coming to Bayern Munich because to improve and to get better I had to be playing at the highest level.
"Of course, I want to win every competition I play in. That is the ultimate goal every season but when you finish your career, whenever that may be, you just want to make sure you've pushed yourself to your limits and that is what I'll continue to do."
Watch Harry Kane's Bundesliga debut on Sky Sports! Werder Bremen vs Bayern Munich live on Sky Sports Football from 7.20pm on Friday; kick-off 7.30pm.
'It's starting to feel normal' | 'An amazing experience'
Kane on his hectic start to life at Bayern Munich:
"It's been crazy. The first few days were hectic. There was a lot going on and a lot to do. Obviously there was also the game on Saturday as well.
"The last couple of days have been a nice and have allowed me to settle in. I got some good training sessions in with the team, and I am starting to get to know the team a little better.
"It's been an amazing experience, everything about it. Now I am focusing on the game on Friday and getting down to work."
When asked if he's had that moment to reflect on his move: "When I was sitting on the bench on Saturday.
"I think because everything happened so quick, I was looking around and it was a totally new environment, a totally new team and a new stadium.
"That was a bit of a wild experience but ultimately, once I'm on the training pitch and in the games, it feels natural and normal, and that is what has happened over the last few days."
Bayern's struggles on Kane's debut highlight pressure he will face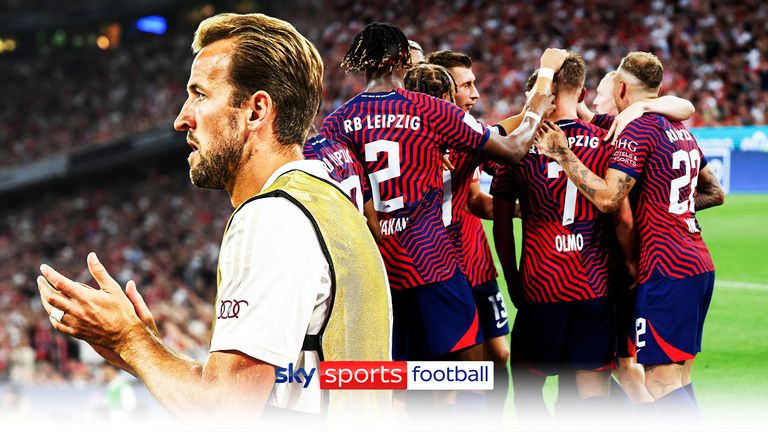 When Harry Kane finally left Tottenham, 4369 days had passed since his debut, every one of them without a trophy. The expectation was that he would break that cycle on day one at Bayern Munich. Instead, schadenfreude visited the new signing.
Dani Olmo's hat-trick stunned the expectant Bayern supporters inside the Allianz Arena as RB Leipzig won the Supercup – and there was nothing that Kane could do to prevent it. Two down when he came on. Three down before he had touched the ball.
Sky Sports' Paul Gilmour and Adam Bate react after Harry Kane's Bayern Munich debut ended in defeat to RB Leipzig in the DFL Supercup

When Bayern had talked of making him feel at home, this is not what Kane would have had in mind. He chased around but with little reward. Thomas Tuchel even apologised to his new signing afterwards for his team-mates' inability to find him with their passes.
Kane is accustomed to carrying the weight of a club's expectations, of course. But at Spurs he was one of their own – loved long before those expectations were placed on his shoulders. At 30, there are one hundred million reasons why he must deliver here.
Read more from Adam Bate in conversation with Mario Gomez and Phillip Lahm Here
Watch Bayern Munich live on Sky Sports!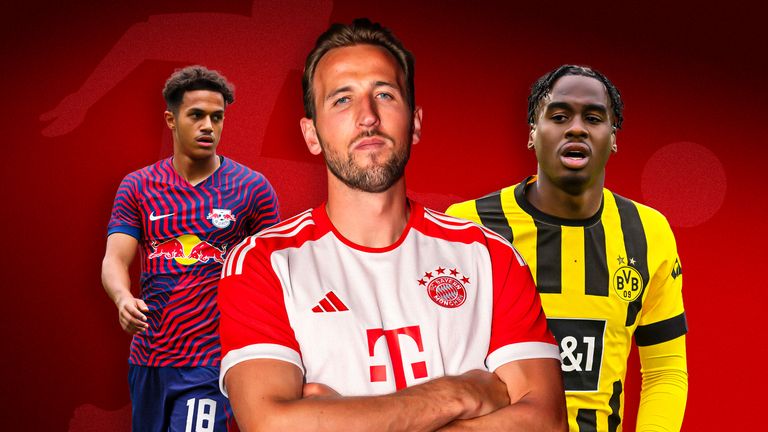 Harry Kane is set to make his first start for Bayern Munich when the German champions start the defence of their Bundesliga title away at Werder Bremen on Friday night – and you can watch the game live on Sky Sports Action from 7.20pm on August 18 – kick-off 7.30pm.

Sunday 27th August 4:30pm


Kick off 4:30pm

Bayern then face a home fixture against Augsburg, live on Sky Sports Football on August 27, kick-off 4.30pm. Stream the Bundesliga and more on Sky Sports with NOW for £26 a month for 12 months.