Being in Munich when Harry Kane's move to Bayern gathered pace was a stroke of fortune. At Thomas Tuchel's press conference on Friday, it felt surreal to be in a tiny room at the club's training base on Sabener Strasse, the only British reporter there to ask him about what was to become the biggest story in football.
Forty-eight hours later, Kane was being introduced at the Allianz Arena to rather more fanfare, the world's media having descended on Bavaria, with the England captain having already made his Bayern debut in front of 75,000 people the previous evening.
The temptation is to think that interest in Kane's move to Munich is a little parochial but it is not restricted to England. The reaction in Germany has been frenzied. Newspapers have covered every detail, putting the spotlight not just on his family but even his pet dogs.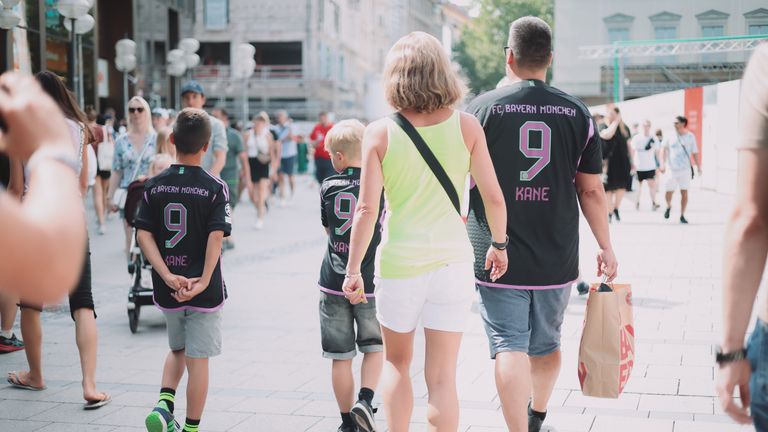 Friday 18th August 7:15pm


Kick off 7:30pm

His shirts went on sale on Saturday morning and by lunchtime it was impossible to miss them in the city centre let alone the stadium later that day. A record signing for Bayern, a record signing for the Bundesliga, Kane can expect the attention to be intense.
There were mitigating circumstances in the Supercup. Kane had only half an hour to make an impression playing in a team that he had not even trained with before. That is before considering the emotional energy expended in making the first transfer of his career.
But given the sense of anticipation in Munich, given the nature of the club, the expectation is that he will make the difference soon. On that note, it was interesting to speak to Mario Gomez at the Allianz Arena about the unique pressure of being Bayern's striker.
"Everybody always expects a striker of Bayern Munich to score. If you score once it is not enough, you have to score another, if not a hat-trick. If you do not score in an important game they say he is a good player but not a top player. It is a different kind of pressure."
Kane can handle that but it will be fascinating to see how it goes for him. Bayern's defeat to RB Leipzig suggests that there are issues to be addressed. But they launch the new Bundesliga season on Friday at Werder Bremen. A Kane goal would launch his Bayern career.
Man Utd midfield balance key
Returning from Munich, it was to Old Trafford on Monday evening where Manchester United's performance, even in victory, brought more questions than answers about their credibility as title contenders. The make up of their midfield might be an issue.
Mason Mount is a fine player who should bring energy as well as quality to their game. But he was playing in such an advanced position, close to Alejandro Garnacho out on the left wing, that it meant there was little cover for Casemiro on the counter-attack.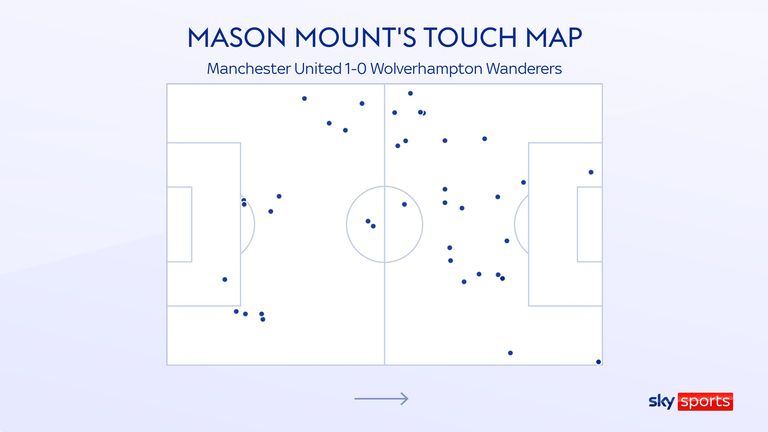 Pushing so high has its advantages. Erik ten Hag pointed to the number of times that United were able to regain possession in the final third against Wolves. They had five shots from high turnovers – more than any other Premier League team on the opening weekend.
But United also conceded 23 shots, the most they have allowed a visiting team in a Premier League game at Old Trafford for 18 years. A number came following runs that cut through the centre of the pitch where Casemiro was isolated. The Brazilian is a brilliant player, his positioning exceptional, but he is not quick enough to do it alone.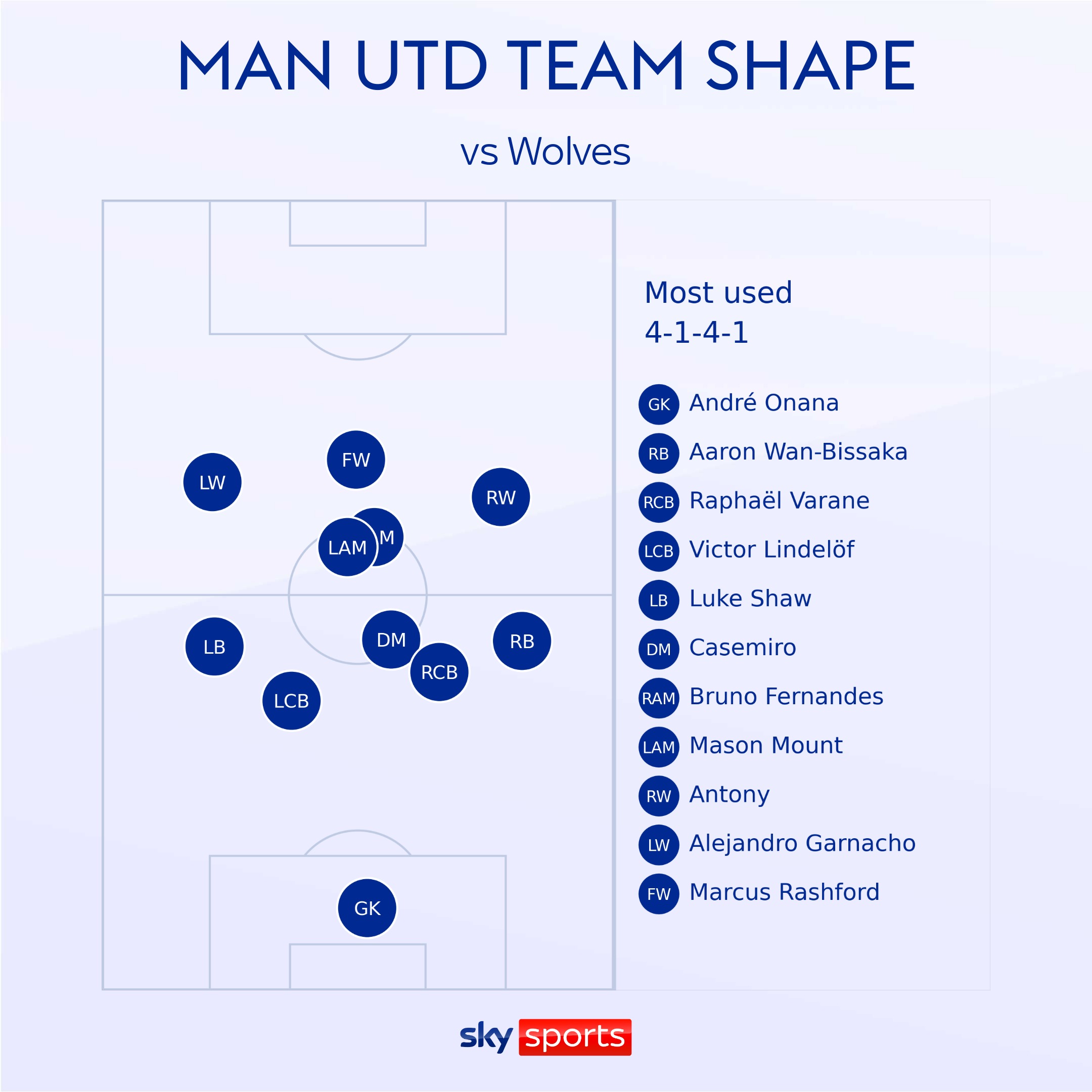 The top Premier League teams have recognised this risk, moving a full-back inside to block the centre of the pitch. Against Wolves, United frequently pushed both forwards, the winning goal eventually coming thanks to Aaron Wan-Bissaka's run and cross.
United already have three points more than they mustered from their first two games of last season. But if Ten Hag's team are to really challenge the very best, he may need to alter the balance of that midfield. Conceding so many chances is simply not sustainable.

Saturday 19th August 5:00pm


Kick off 5:30pm

Hope for Wolves under O'Neil
For Wolves, it was their highest expected-goals total away from home in a Premier League game for almost two years, but they were unable to punish United. No surprise, perhaps, given that no player in the starting line-up scored more than two goals last season.
Wolves have assembled a talented group, Pedro Neto twisting and turning, Matheus Cunha driving at defences from deep, but Fabio Silva is the only man in the squad who might be called a natural finisher. Should O'Neil be concerned about the lack of punch?
FREE TO WATCH: Highlights of the match between Manchester United and Wolves

Putting that question to him in the press conference after the game, he appeared optimistic. "Not at this moment," replied O'Neil. "If I have been here a while and we have had 23 shots every game and we still have not scored then I will start to be concerned.
"I see players with real quality, see players that are capable. It is my job to keep getting them to arrive, my job to work with them on being more clinical. I am sure they will show what good players they are and we will score enough goals to be successful."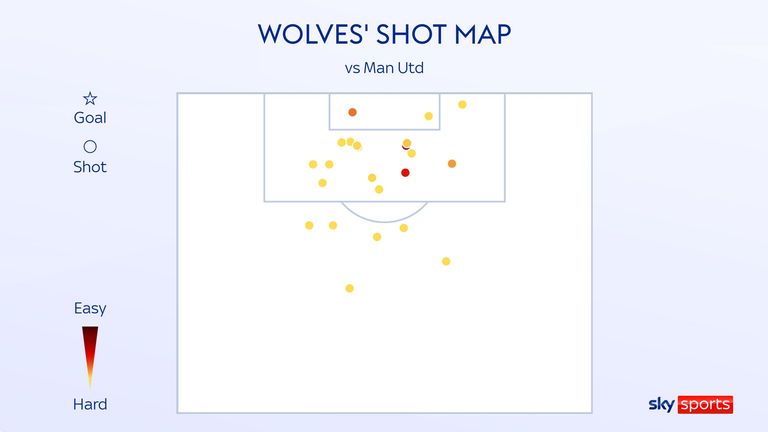 The biggest encouragement for O'Neil will have been how engaged his players appeared. He had noted the negative noises, the talk of relegation. But Wolves snapped into tackles and ran hard until the end, earning a rousing reception from their fans even in defeat.
The numbers highlight the change. Wolves made 191 high-intensity sprints at Old Trafford, the most of any Premier League team on the opening weekend. Their highest total in any game last season was 164 – ranking among the bottom three teams for sprints overall.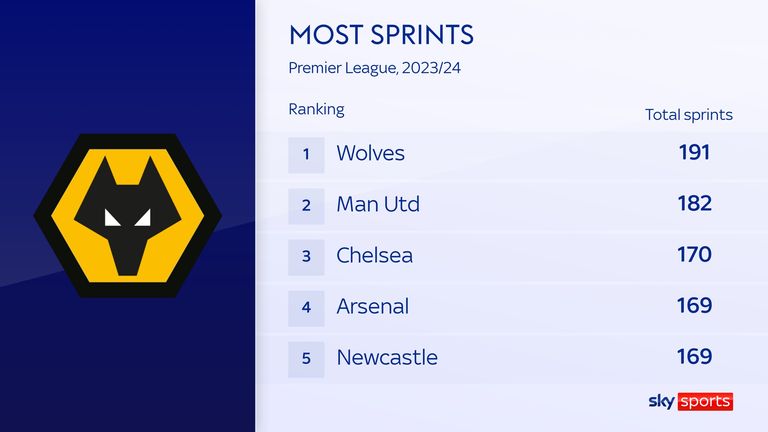 If O'Neil can maintain that high tempo and his team can continue to create chances, supporters will respond and the players will surely be rewarded eventually. Those who had written Wolves off might need to rethink that on the evidence of Monday evening.
New Saints style already clear
Memories of speaking to Ralph Hasenhuttl about his Southampton playbook came to mind when watching Russell Martin's version dominate Sheffield Wednesday in his first game in charge. It was not so long ago that Hasenhuttl wanted to instil a very different idea.
The playbook was a guide outlining his vision so that there was a club-wide philosophy to develop the next generation of Hasenhuttl's pressing machine. All the coaches in the academy, they get the playbook, they get the teaching," he told Sky Sports.
The plan had already begun to unravel when Hasenhuttl was sacked in November. Relegation followed. But the sight of Southampton racking up 1564 passes so far – almost 500 more than any other Championship team – is a reminder that identities can shift quickly.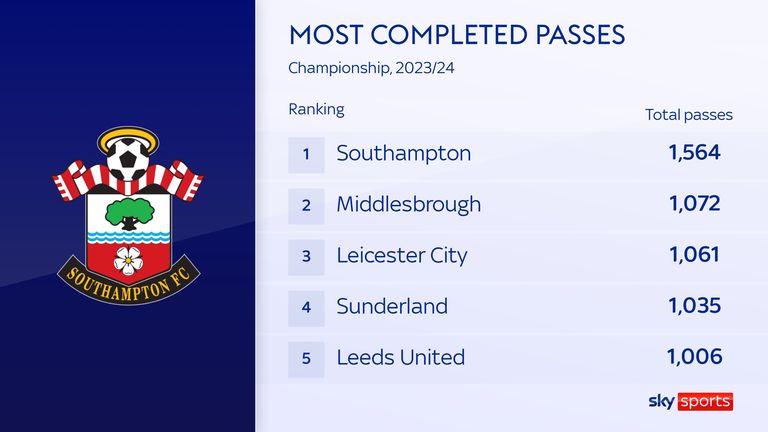 No team in England's top two divisions have completed as many passes as Southampton did against Wednesday in a league game this decade. There were 930 of them. The tally has been surpassed by Pep Guardiola's Manchester City only once in seven seasons.
It is extraordinary how quickly Martin has Saints playing his way.
A commitment to playing out from the back, the possession game, has been a theme of his career at MK Dons and Swansea. Speaking to coaches this summer about the most tactically interesting teams in football, Martin's Swansea came up more than once.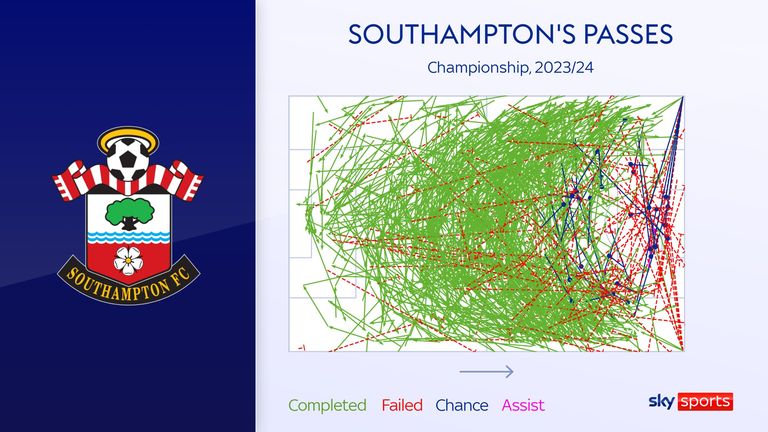 Highlights of the Sky Bet Championship thriller between Southampton and Norwich

So far, this style has done rather more for his own progress than those of his clubs. Can his teams convert possession into results consistently? Only a fraction of the passes have been penetrative. In drawing 4-4 with Norwich, they were vulnerable on transition.
But whatever happens next, Martin's ability to establish his vision so quickly is impressive. Coaches who do that attract attention. Think of how Vincent Kompany transformed Burnley. Southampton have a new way of their own now. The Hasenhuttl idea is long gone.