It has been a summer of huge change at Brighton. While many clubs made multiple signings – and players of high quality too – it is the Seagulls who have most strongly signalled their intent to compete with the WSL's elite this season with their arrivals.
Speaking to manager Melissa Phillips and a series of players in pre-season, it is just the start of an exciting project at the club, with a rebirth certainly needed after a turbulent 2022/23 season.
After two mid-table finishes and the experienced head of Hope Powell leading the way, it was hoped the Seagulls would be in store for another solid campaign – or even better.
But perhaps the crux of their issues rested on the departure of Maya Le Tissier to Manchester United that summer. There was little in the way of a replacement for one of the league's most promising young defenders.
Goals were not an problem necessarily – scoring 26 times, the eighth-highest in the league – but keeping them out at the other end was. In fact, it was an 8-0 thrashing by Tottenham that saw Powell relieved of her managerial duties after five years with the club.
Amy Merricks was twice named as interim manager, sandwiched either side of Jens Scheuer's 65-day tenure. He oversaw six matches, three of which were WSL defeats, and there were reports that his 'forthright' managerial style was a cause for concern at the club.
But Brighton now appear to have settled into stability once again under former London City Lionesses manager Phillips. Two wins and a draw in the final seven league games of the season was enough for the Seagulls to finish 11th, above Reading, even after losing in a final-day relegation showdown with Leicester.
Highlights of the Women's Super League match between Brighton and Leicester from the final day of the 2022/23 season

It was not all struggle, though, as Brighton reached the semi-finals of the FA Cup. However, they were beaten 3-2 in an entertaining fixture by Manchester United in Phillips' first match in charge.
This summer, Brighton's squad went through a much-needed shake-up. A number of stalwarts departed, including captain Victoria Williams, Danielle Carter and Kayleigh Green. All in all, 13 players left the club, including three out on loan.
But 11 incomings, oozing in international experience and quality, show just how ambitious Brighton and Phillips are.
"From the outside looking in before I got here, Brighton has an excellent platform to go and be competitive," the Seagulls manager told Sky Sports.
"The club is very ambitious and we've shown our ambitions this summer with the ability to sign high-calibre players and really revamp the squad.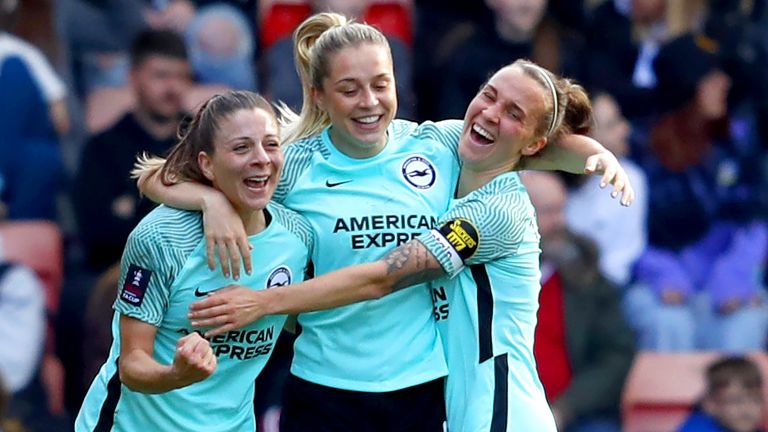 "It's a massive rebuild and we know things aren't going to happen overnight. This is a long journey and a long season, but we're excited by the progress and the new faces in the building, the fresh energy and just looking forward to moving forward this year.
"We have a pre-season under our belt and players coming back from the World Cup, new signings coming in, but ultimately, we're focused on the integration, communication and identity of the team and doing that as quickly as possible. We know we'll grow throughout the season, but it's been a really fun pre-season."
The transformation began in mid-June, when Pauline Bremer was announced as the first signing of the summer from last season's Champions League runners-up, Wolfsburg.
The midfielder would be a coup for many teams, but especially a side that finished second-to-last in the WSL just four months ago. Bremer is a multi-trophy winner, winning league and European titles at Lyon, as well as the League and FA Cup while at Manchester City.
Bremer joined Brighton after being enticed by the project in motion at the club, which has seen a wealth of nationalities now represented in the squad.
"It feels really good. I'm loving it so far," she told Sky Sports News. "Pre-season has been great, enjoying the beach of course, but also the hard work with the team. I'm excited to get started.
"We set high goals. I'm really excited by the project and to build a team here that can be really successful. We all know it needs a bit of time, but we're all excited.
"I think we have 13 different cultures now, it's really international. I think that makes it really interesting and the diversity is a quality as well and we use it in the right way. It's been busy but good to get all these high quality players in and to build a team together.
"Last season was a bit difficult, I watched it from the outside but being here now, everyone wants more and wants to climb the table. I think we have everything we need to do this [finish in the top half], it's just getting things right and putting in the hard work now to be successful this season."
If Bremer's arrival indicated how ambitious Brighton were going to be, their next signing confirmed it.
Vicky Losada is a name synonymous with Barcelona, who have broken the French and German stranglehold in European football. Having come through the club's famed La Masia academy, she had three spells with the Liga F champions, winning 15 major titles, including the club's first Champions League in 2021.
In fact, at almost every club she has played for, she has won trophies, including Arsenal, Man City and last season at Roma. A player of such stature would have a pick of destinations, and like Bremer, spoke of the Brighton project as an attractive factor.
Speaking to the club's official website, she said: "I think women's football is growing and that Brighton has a really good project that they want to grow every day.
"The fact that Mel Phillips wanted me is a massive thing, and I feel I can bring a lot of experience to the squad and help the young players.
"I'm very competitive and a hard worker. For me, the team is the first thing, so I always put the team before the player. I think that's important if you want to create a good environment which can achieve good things in the future.
"I think it [her experience] is very important, especially with the young players. I know that there are other experienced players come into the squad and I think that combination is perfect to create something really good."
Goalkeeper Nicky Evrard also signed on loan from Chelsea for the season. Another player jam-packed with international experience, she is Belgium's No 1 and was vital as her country reached the Euro 2022 quarter-finals last summer.
She was soon joined by fellow stopper Sophie Baggaley from Manchester United, joining former United team-mate defender Maria Thorisdottir on the south coast. The latter too has plenty of first team and international experience with Norway.
But it is also perhaps not the greatest surprise that Brighton have managed to land such talent. The recruitment for the men's side has been some of the best in the Premier League for years, with that now being reflected in the women's team. It shows just how seriously the club views Phillips and her squad.
With that being said, just what is the Brighton project that has attracted such backing from the club with multiple high-calibre signings?
At the core, it will certainly be to improve on their league finish last season and make themselves competitive among the WSL's elite.
That starts with the players at your disposal, and Phillips also offered an insight into how she has characterised her summer recruitment drive.
"It's about finding the right people and what is that, how do you define it?," she told Sky Sports.
"We shared our vision with the club and the players we went after. Ultimately, we wanted to make sure the people we bought in shared the ambition and values with the club, shared the desire to grow and stretch themselves and as such, we feel we got really good characters, really good leaders and really good human beings, first and foremost.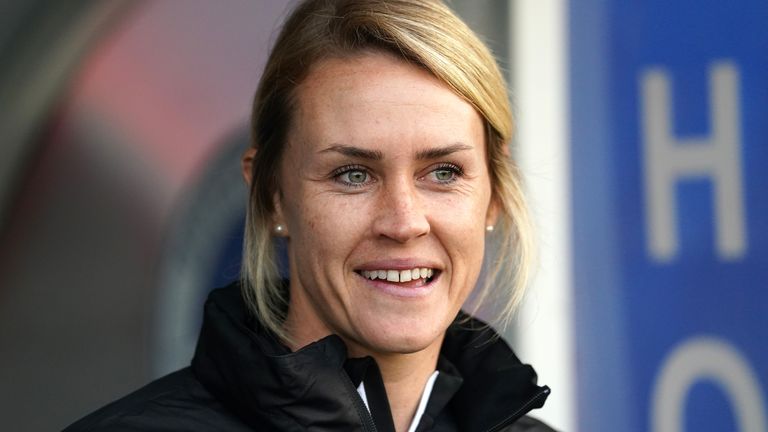 "Of course, then the technical qualities, the talent, the athleticism, those factors all played a part in it. We're really happy where we're at and the players we've bought in.
"The exciting part about our new signings is you could walk through the door with that team today and it doesn't feel like there's 11 new faces because they've really meshed well. They're like-minded characters and ambitious. It's been fun to be part of the group.
"We want to compete in the top half of the table, I think that's really important, and we have to be consistent with our performances to do that and be competitive as well."
Of course, the proof of all of the above will come once the season begins on October 1 as Brighton travel to Everton.
Phillips faced Brian Sorensen's team twice in her short tenure at the end of last season. She won her first league game against the Toffees 3-2, but slipped to a 2-1 defeat in the reverse fixture in May.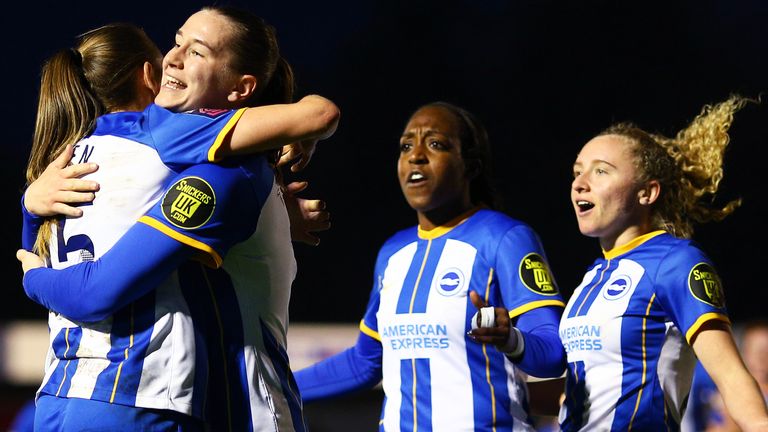 Reflecting on those fixtures, the Seagulls boss said: "Both were competitive matches, both really tight as well that were won and lost at the tail end of the game. We expect a lot of quality from them in possession, as they were last year.
"The opening game of the WSL, everyone is going to be excited for it and for it to be 100 miles per hour, so it's about how we manage momentum and put our stamp on the game."
However, the biggest test of how much this rejuvenated Brighton squad can achieve will come when they face last season's top four in successive games between October and November. Not only will fans be looking for their new stars to perform, but also take points against the big teams in the tightest of leagues.
One thing that is for sure is the amount of optimism and focus there is at Brighton heading into a new season. It is a fresh start for the Seagulls with challenges to come, but Phillips has armed her squad with the right tools to make it a successful campaign.
How to follow the WSL on Sky Sports
Follow all the latest from the Women's Super League across SkySports.com and app, including exclusive features and interviews, plus dedicated live blog coverage and in-game clips from games live on Sky Sports.
You can also watch free match highlights from every WSL game this season on Sky Sports' digital platforms and YouTube channel, while all matches will continue to be shown on both Sky Sports Football, as well as on Sky Showcase, available in all Sky homes, even without a Sky Sports package, giving the competition greater visibility.
Alongside coverage and visibility for the league across all Sky Sports' main social media channels, the bespoke Twitter channel @SkySportsWSL will continue to be the home of all Barclays FA WSL content on Sky Sports.
The Sky Sports WSL TikTok account gives fans 360° coverage of the league and granting them exclusive access to their new favourite players. Through fun challenges and interviews, along with behind-the-scenes footage, viewers will get to know the WSL's array of personalities and see the sport from a new set of angles.
Meanwhile, fans can also keep up to date with everything on and off the pitch with the return of Three Players and a Podcast, hosted by Caroline Barker.