Thirty-three seconds. That is all that 17-year-old Marc Guiu needed to score on his debut for Barcelona last month. His mother was in tears. Xavi was vindicated. Just the latest example of the club's trust in La Masia, their famed academy, being rewarded.
There is Gavi and there is Pedri, there is Lamine Yamal and there is Fermin Lopez. Now, there is Guiu. His Instagram account had 44,000 followers before that kick of the football. Within hours, it had topped one million. Another overnight success story, or so it seems.
The truth is a little different.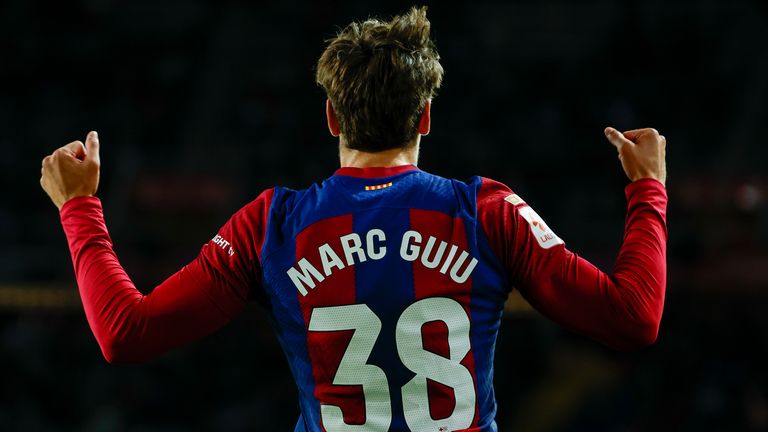 "Now, everybody is talking about Marc Guiu," Albert Capellas tells Sky Sports. "But he arrived at the club 10 years ago when he was seven years old. That means that the club has had to wait 10 years before he could play for the first team. It is a long time."
Capellas spent more than a decade working in Barcelona's academy himself. He was there when Xavi, Andre Iniesta, Sergio Busquets and, of course, Lionel Messi, transformed the game and showed that could be done with a team built around academy graduates.
He does not talk of coaching those greats but learning from them. "I trained Iniesta for several years and I always say that Iniesta came into this world to show us how to play football. It is the same with Busquets. You do not correct them. They show you the way."
And yet, he knows how difficult it is to go on that journey through Barcelona's academy. Especially when it is so tempting for clubs to opt for a quicker fix. "In football, you do not get time, and that makes these long-term projects more difficult to achieve," says Capellas.
"This is why it makes sense for clubs to start with a different strategic model to Barcelona. Because when they sign players at 16, if they are very good they can play for the first team in a few years. You can get the advantage from your investment very quickly."
With Guiu, considerable patience was required. "When he was young, he could not play because he had problems growing. He had pain in his knees and there was a long period, from the age of 13 to 15, when he could not train and he missed a lot of games."
That could have been that if the culture had been different. "At a lot of clubs, if you cannot train or play, you have to leave the club. At Barcelona, we know the level of the players. We give them time. We do not take these crazy decisions on young players."
Perhaps it is that longevity at La Masia that helps make the difference in the end. A teenager signed from elsewhere might be a surer thing, but they would not be steeped in the style of play, the philosophy and values that Capellas and others take such pride in.
"Johan Cruyff showed us the way to have success," he explains.
"There are a lot of things involved when we talk about DNA. The first team, the academy, the way of developing young players, the way of playing, the way of thinking, the way of making decisions, the way of scouting. Cruyff changed everything at the club.
"The first thing that he changed was the winning mentality of everyone at the club. When he arrived, we were happy to win one cup every two or three years. The second thing is that he was there eight years. That is a lot of time to show everyone how he thinks.
"All of the academy teams were playing in the same way as the first team, with the same concepts, the same way of thinking, the same drills, the same exercises. After eight years of everyone working in the same direction, you could see how powerful that was.
"It is one thing to tell a player to scan around. It is another to create an environment in training that you force the players to scan around. Because in football, it is not about what you know, it is about what you do. What we create in Barcelona is an environment.
"Everybody knows that you need a good body shape, for example. The difficult thing is to make it happen. At Barcelona, we train in a way that our players learn how to position themselves better. To instil this in their muscle memory so that it becomes automatic."
The result is that what might appear from the outside to be the biggest step is more straightforward than it might appear. Ansu Fati scored within a week of his debut aged 16. Lamine was the same age when he was man of the match in just his second start.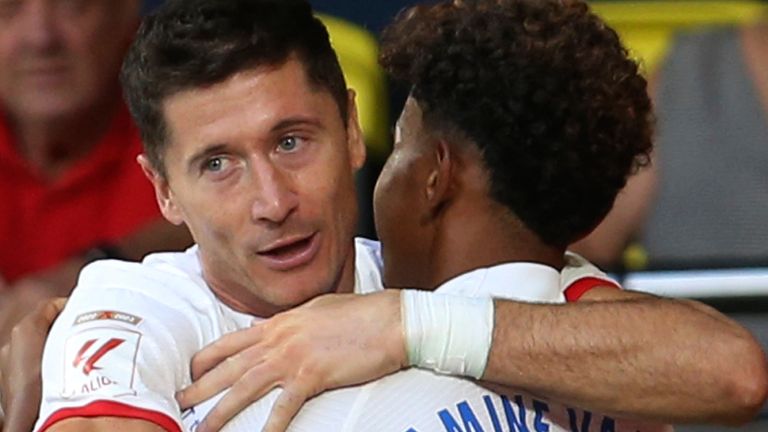 "Barcelona are never afraid to give opportunities to players from the academy because they are educated in the club's way of thinking so when they arrive to the first team, it is very easy for them. They have lived with this kind of pressure all of their lives.
"When I would talk to players from the academy who were given their chance in the first team, they would say, 'Albert, it is much easier than playing for the academy.' Of course. You are surrounded by better players and you are a good player so it is easy for you.
"When you get the ball, the other players are always available in open lanes for the passes. When you receive a pass, it is always a good pass. Never a bouncing ball. Always to the correct foot with the right timing. Look at Marc Guiu's goal against Athletic.
"Why did he have success? Because he had Joao Felix next to him who could see the pass at the right time with the right speed. That is why he had the chance because he had the players around him. Of course, he still had to finish the chance and he did it well."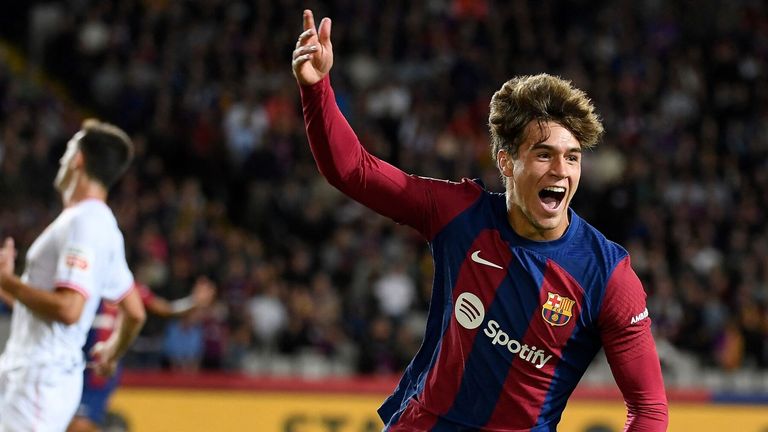 Capellas returned to Barcelona for a third stint within the academy in 2021, working closely with this current crop of young talent, before departing once more. Barcelona will always be his club. Which explains his stance when that DNA is questioned.
Former player and manager Ernesto Valverde did just that earlier this year, suggesting that the Cruyff DNA was overplayed. "Having had him as a coach leaves its mark on you," said Valverde.
"But the DNA thing is a bit of a myth. When a good player emerges, they say, 'He has Barcelona DNA'. When there is a bad player, 'That one doesn't have the DNA'."
Those words caused a stir in Catalunya.
"I understand his comment because when I watched his team play when he was coach of Barcelona he was not playing that Barcelona style," says Capellas.
"It was a good style and he won trophies. He had some success. Fair enough. It is not a problem. But it is not the way that we play football at Barcelona. In the period of Valverde, he did not give opportunities to the young players. That is also not our style.
"What I cannot accept is when he says it is a myth. It is not a myth. It is very important for us and we believe in it profoundly and deeply. It is not a problem for me that he feels that way. What I do not accept is that he undervalued what is happening in La Masia."
Albert Capellas explains how Barcelona prioritise scanning and body shape

What is happening at La Masia is that another wave of talent is emerging. Capellas is excited about the "exceptional" Lamine. "I do not want to compare him to Iniesta or to Messi but I can say that he is a very special player who will make the difference in football."
Guiu has different qualities. "He is not a player with unbelievable dribbling skills but he is a finisher who can run from deep. He is fast, powerful, very good at heading, very competitive. He is exceptional in his position and has the right mentality, a fantastic boy."
Kaveh Solhekol dissects why Barcelona president Joan Laporta is under investigation

Given the financial restrictions at Barcelona, could the academy be their salvation again? "Without money, the academy is even more important. Our best periods have always been the same way. Fifty per cent from the youth team supplemented by the best."
"It is not just about having the idea, you have to convince the people around the club, build the story, build the values of the club. Not just with coaches but with scouts and parents and agents, everyone. You have to create a culture. That takes years and years.
"When the bad moments come and you do not have success, you lose years if you change direction. If that does not work and you want to come back to the original direction, you have lost years too. It is about staying strong when things are not going well."
And then, after 10 years, or 33 seconds, you receive your reward.