Chelsea manager Emma Hayes will become head coach of the United States women's team at the end of the season.
Hayes will finish the 2023/24 Women's Super League campaign with the Blues before she joins her new team two months before the 2024 Olympics in Paris.
Interim head coach Twila Kilgore will continue in her role and then join Hayes' staff as an assistant coach.
"This is a huge honour to be given the opportunity to coach the most incredible team in world football history," Hayes said.
"The feelings and connection I have for this team and for this country run deep.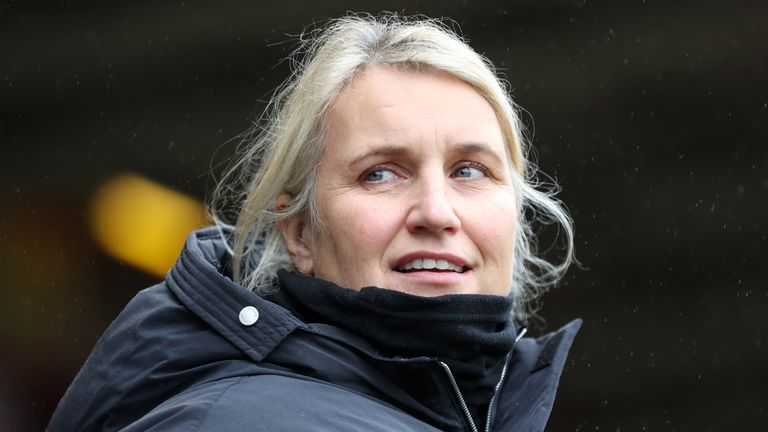 "I've dreamed about coaching the USA for a long time so to get this opportunity is a dream come true. I know there is work to do to achieve our goals of winning consistently at the highest levels. To get there, it will require dedication, devotion and collaboration from the players, staff and everyone at the US Soccer Federation."
Hayes started her coaching career in the United States and admitted on Tuesday it would be a fairy-tale end to her Chelsea career by lifting the Women's Champions League for the first time at the end of the season.
Emma Hayes believes the 'time is right' to leave Chelsea, but refused to comment on her next role when she leaves the club at the end of the season

The Champions League is the one major trophy that has eluded the 47-year-old during that time, with the Blues having lost 4-0 in the 2021 final to Barcelona and reached the semi-finals on three other occasions.
US Soccer sporting director Matt Crocker led a worldwide search process and made the final decision to appoint Hayes as head coach.
A statement from US Soccer revealed Hayes will become the highest paid women's soccer coach in the world.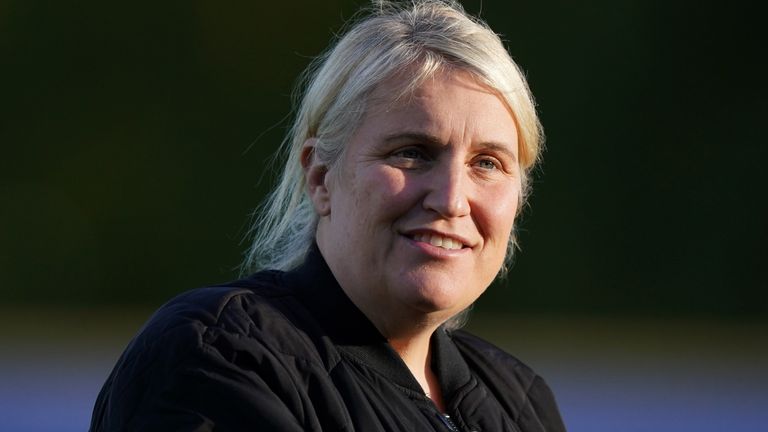 The feelings and connection I have for this team and for this country run deep.
"Emma is a fantastic leader and world-class coach who sets high standards for herself and for everyone around her," added US Soccer president Cindy Parlow Cone.
"She has tremendous energy and an insatiable will to win. Her experience in the USA, her understanding of our soccer landscape and her appreciation of what it means to coach this team makes her a natural fit for this role and we could not be more pleased to have her leading our Women's ntational eam forward."
Analysis: Hayes a pioneer in English women's football
With Emma Hayes departing Chelsea at the end of the season, Rosie and Mollie Kmita look at the impact she has had on women's football and who could be next in line to fill her role

Sky Sports' Charlotte Marsh:
"It is unusual for a manager to announce their departure from a club so early in the season – but Emma Hayes has always broken the mould.
"In a lot of ways, seven months is needed to try and comprehend just how big of an impact Hayes has not only had at Chelsea, but across women's football in England as a whole.
"Her numbers for the Blues speak for themselves – trophies upon records upon titles. Wouldn't it be the end to the fairy tale if she bowed out by winning the club their first Champions League title?
Manchester City boss Gareth Taylor says he was surprised by Emma Hayes' announcement she will be leaving Chelsea at the end of the season

"By transforming Chelsea into the women's powerhouse they are, Hayes has championed and pioneered the standards that the entire game is now being held to.
"Player health across the board, facilities, training methods, staffing, transfers – you can see Hayes' influence in each area. Women's football would simply not be where it is without her lighting the way.
"She has been at the forefront of the growth of women's football, a voice others turn to for opinion and direction on the biggest issues facing not only the game, but women overall.
"Hayes too has shown that this can all be achieved as a mother, as someone who battles against health issues and personal loss just like us all. None of it has impacted her ability to do her job successfully and reflects the human element that can sometimes be missing in football.
"Her move to the USA offers her a new challenge and one that will be incredibly exciting to watch unfold.
"But for now, the tributes and goodbyes will come flooding in over the coming months and rightly so. Chelsea and women's football have a lot to thank Hayes for."