England secured top seeding at Euro 2024 as they rounded off their qualifying campaign with a 1-1 draw away to North Macedonia.
But will Gareth Southgate's side live up to their billing as tournament favourites? And what are the problems that still need to be addressed ahead of next summer?
Sky Sports News senior reporter Rob Dorsett gives his verdict on some of the key questions following England's laboured performances against Malta and North Macedonia.
Are England deserving of the favourites tag?
Before this international break, I might have said yes. But I still think England are some distance shy of France in terms of what they have got as a squad.
If you take it area by area, then England are as good as anyone in Europe and possibly in the world with Harry Kane and all of their wide attacking options.
Jude Bellingham adds the X-factor in midfield and England's other options in that area of the pitch is probably as good as any side they will come across at the Euros with Declan Rice in there as well.
The third midfield player is the conundrum for Southgate. He has an unanswered question there. But the real concern for me, and for the last couple of tournaments, is England defensively.
We talk about players not playing but it was pertinent when Southgate mentioned that when he picks the squad for the Euros, he's got to pick players on the basis of robustness as well as ability.
Sky Sports News' Rob Dorsett says there are a number of questions facing Gareth Southgate and his England side ahead of Euro 2024

That was a direct reference to some of the full-backs he has been lacking because Luke Shaw and Ben Chilwell have really not been available to England very much. Reece James, likewise.
Southgate has some real concerns about the football he has missed and has made it clear he is not going to gamble on these players in his squad if he has a fear they might break down again.
At the last World Cup, it was a 26-man squad, but this one will be 23, so he cannot afford any passengers. He has got problems at full-back and at centre-back and that could harm their chances.
When is the Euro 2024 draw?
The final tournament draw will take place on Saturday December 2.
The opening game of Euro 2024 is June 14 with the final taking place on July 14 at the Olympiastadion, Berlin.
Can Maguire be trusted to start?
It will be a huge relief to Southgate that Maguire is playing regularly for Manchester United now, even getting some game-time ahead of Raphael Varane, who is fit again.
But is that going to continue right through the remainder of the season?
Even against North Macedonia in Skopje, Maguire was very lucky he did not cost England a goal with that terrible cross-field pass which was intercepted. He tried to make amends and virtually rugby tackled the attacker in the box.
England's Harry Maguire was unhappy with the referee's decision to award a penalty against his side in the 1-1 draw with North Macedonia

A penalty was not given but I don't think there would have been many complaints from an England perspective if it had been.
So, while Maguire has been playing pretty well, and coming back to some sort of consistency, he has still got a possible mistake in him.
England are very good up top, very good in midfield, but I think their biggest concern will be at the back and conceding too many goals and Maguire is a part of that concern.
Marc Guehi has come through brilliantly in recent England games. It's pretty clear he is first-choice understudy if John Stones or Maguire aren't available.
Depending on how things progress, he may even be first-choice ahead of one of them. But whether Southgate will actually accept that, I don't know.
Is Bellingham overreliance an issue?
It is a concern, but only if Jude Bellingham is unavailable or a bit burnt out. He's played so much football. For Real Madrid, he's the first name on the team sheet. It's absolutely extraordinary.
For me, and I don't think this is an exaggeration or an outlandish claim, he is the best player in the world right now. Not just the best midfielder, the best player.
The phrase I've used before is that he turns England from Euro pretenders to Euro contenders. He is the missing link that Southgate has been looking for. He can do the lot.
You talk about midfielders who are defensive midfielders, No 8s, who go box to box, or No 10s, who are more creative. Bellingham is all of those in one player.
He is the best player in the world right now. Not just the best midfielder, the best player
When he is not there, that midfield does not looks as proficient. It looks to have more gaps in it. It looks like it's not so slick going forward.
So, yes, there is absolutely an overreliance on Bellingham, but that feels unavoidable because nobody can replicate what he's doing on the pitch right now.
Is there enough depth behind Harry Kane?
Again, it's a struggle. For me, it was a bizarre decision from Southgate to rest Harry Kane against North Macedonia – unless there was something underlying we do not know about.
It's tricky for the manager because he's damned if he does and damned if he doesn't.
If he just put the usual faces out when England are already qualified and pretty much guaranteed top seeding, then everybody would say, 'He always sticks with the same players'.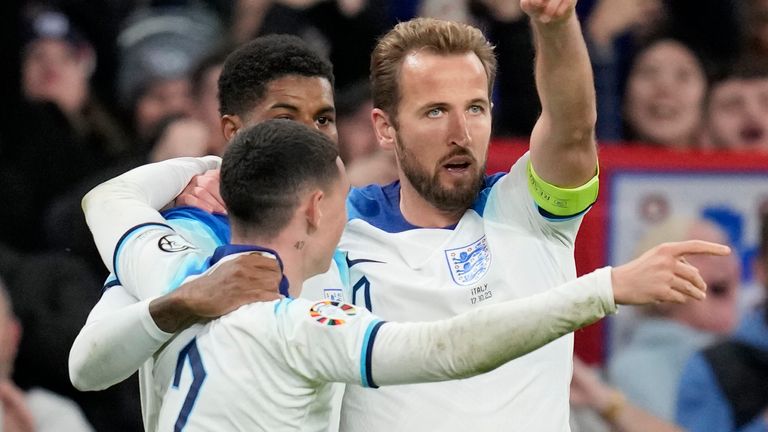 But then, when he puts other players in and they don't perform, he gets criticised because it impacts the team's performance. So, I do have a bit of sympathy for him.
But it is very clear that Kane is in the form of his life for Bayern Munich. He is England's main man and has been for so many years.
I think the two irreplaceables, if they are to have any hope of winning the Euros, are him and Bellingham. Simple as that.
If we're talking about the pretenders to the throne, I was getting the impression from inside the camp that Ollie Watkins is becoming the natural understudy to Kane ahead of Callum Wilson.
Ollie Watkins says he is happy with his progress in an England shirt

Again, some of that might come down to injuries, because Wilson has struggled with a few of late. Watkins scored the winner in the friendly against Australia in October, but just when you think he is the new No 2, he puts in a display like the one against North Macedonia.
He struggled a little bit. He told me after the game that he felt quite isolated, that he was often double-marked and that he didn't get a lot of the ball. It's all absolutely true.
But when Kane is in the situation, he drops deeper, finds the ball and creates something. You are not going to get that from Watkins. So, when Kane is not leading the line, England definitely look more impotent.
What next for England?
England are not back in action until Saturday March 23, 2024, when they host Brazil at Wembley; kick-off 7pm.
England's final game before Gareth Southgate names his shortlist for Euro 2024 is against Belgium at Wembley three days later on Tuesday March 26; kick-off 7.45pm.
Is Rico Lewis a genuine option at left-back?
I don't think he is, no. I think he is an option somewhere else in the squad. Southgate looks for versatility and Lewis has got that in spades. He can play at right-back, defensive midfield, No 8, left-back.
But positionally, and I was sitting in the stadium last night in Skopje, he was all over the place and Maguire was covering for him quite a lot and talking to him quite a lot.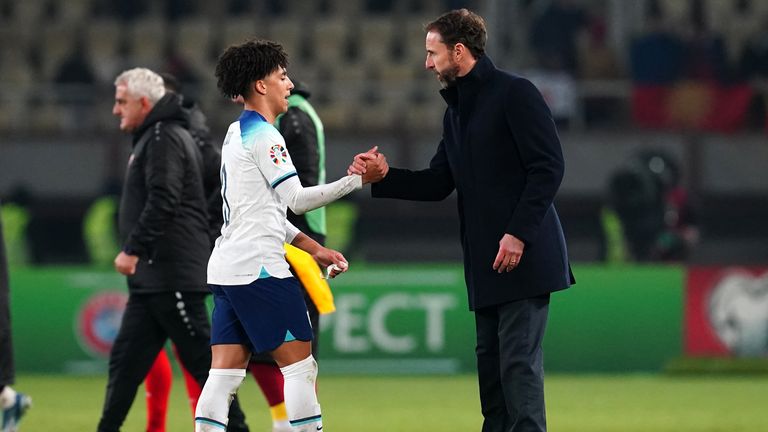 That is absolutely no criticism of Lewis. I think he was outstanding for England in the game. But he was not outstanding as a left-back. The good things he did were when he drifted into midfield and played more in that defensive midfield role that he has been playing so well in for Manchester City.
So, while I don't think he's a solution at left-back, I think he has a chance of making the squad.
March will be a massive camp for him, against Belgium and Brazil. But I think he would be a good addition because of his ability and versatility and also the character he showed after conceding that harsh penalty.
Rico Lewis reflects on his England debut against North Macedonia and the decision given against him for the hosts' penalty

He showed real maturity for a lad just turning 19. He did not sulk, didn't get upset. He was professional and impressive for the rest of the game.
The situation at left-back is a problem. But Southgate will be hoping that he is not desperately unlucky and Luke Shaw, Ben Chilwell and Levi Colwill are all injured when it comes to the camp in March.
Who is the No 2 behind Jordan Pickford?
Surprisingly, I think it's Sam Johnstone. Again, being around the camp, I get the impression Southgate and Steve Holland really like him. They have been really impressed by his performances and they have got issues around Aaron Ramsdale.
For me, personally, I think Ramsdale is a brilliant goalkeeper and I don't understand why Arsenal will not play him ahead of David Raya. But the fact he is not playing regularly is a problem.
It's a problem for Southgate more than if Maguire is not playing a lot, for example, because goalkeepers have to be playing. That is why I think Ramsdale's position is under threat.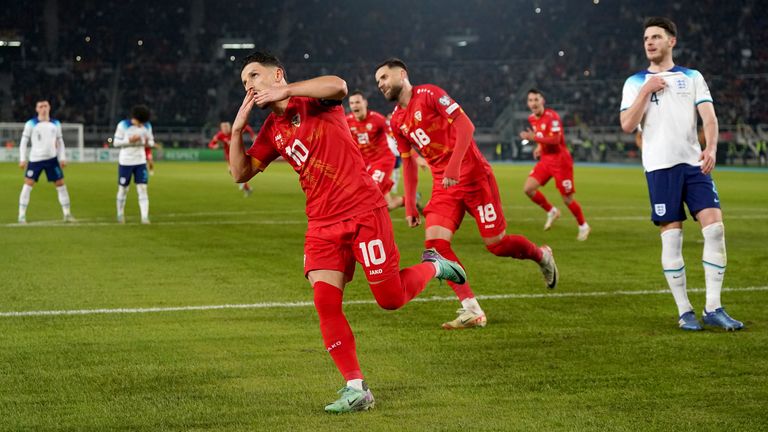 It's a bit of a surprise that Nick Pope is back from injury and still not being included but again it's a testament to how highly rated Johnstone is.
What surprises me and disappoints me a little bit is that Southgate sticks with Pickford for every game. He's prepared to drop his captain, Kane, to give Watkins a chance, but he does not drop Pickford to give Johnstone a chance.
I presume it's because he did not want to make another change in the defensive unit, where communication is so important, but if anything happens to Pickford, England's other options will be undercooked. They have not played enough for the national team.
Any wildcards who could force their way in?
I think Cole Palmer and Rico Lewis have got a chance. I liked the way Palmer played when he came on against Malta at Wembley. He showed the confidence he has been showing with Chelsea.
But it's a position where England are so blessed with options and I still cannot understand why Palmer is in the squad ahead of Raheem Sterling right now.
Whether Southgate reverts to type and reverts to his tried and tested remains to be seen. I think a clue is in the squad he initially picked before the injury withdrawals a couple of weeks ago.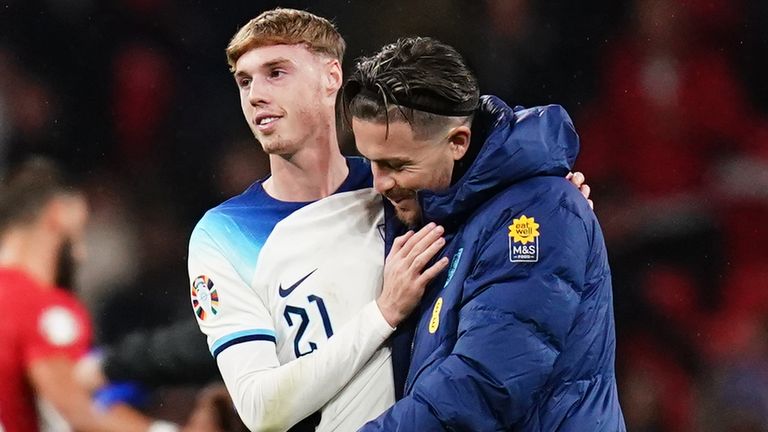 There were no new call-ups. The only reason Lewis, Palmer and Ezri Konsa got call-ups was because other players had to withdraw. They were not part of his initial plans.
I think Lewis may have impressed him enough in training and in the game last night to think that he's worth another go. I think Palmer is in his thoughts now too.
But I cannot see anybody else, however impressive their form is between now and March, making that squad. It's just not in Southgate's make-up and it's not what he was doing with this squad.
Euro 2024: All you need to know
The countdown to Euro 2024 is well under way, with qualifying for the tournament reaching its conclusion.
With 10 host cities, key dates as well as information on the group stage draw, Sky Sports has all you need to know on the upcoming tournament.