"The chance to make it to finals, as a coach or a player, is really special. We've made it to four already. I won't take it for granted but I'm in a little fairy tale."
An emotional Sarina Wiegman is a sight to behold. Usually rock-steady, she's the first coach in the history of the women's game to win back-to-back European titles. And now the first to take two different nations to a World Cup final.
Records are tumbling around her.
It takes a special person to oversee four major international tournaments and make it to the final of each and every one. Such is the Dutchwoman's fortitude and conviction, it comes as no surprise to onlookers England are down to the final two in Australia, 12 months after being crowned continental champions on home soil.
The question was posed to a teary-eyed Wiegman after beating the tournament co-hosts in Sydney on Wednesday, 'how do you keep making it to finals?' "I don't know," she replied, modestly. Perhaps the intensity of the occasion overwhelmed her in that very moment, against the backdrop of a deafening crowd, but the answer Wiegman gave was somewhat unjust.
England's Lionesses make it through to the World Cup Final – follow the ups and downs as they beat Australia 3-1 in Sydney

To suggest, for even a second, England's journey to this World Cup final has been anything but painstakingly planned is doing the architect a disservice. Every eventuality is meticulously mapped out – game plans with detail to cater for every individual need are discussed and debated. And collective threads of ideas are sought too, allowing space for sharing and collaboration between players, technical staff, and coaches.
Harry Kane sends his congratulations to the Lionesses after they beat Australia 3-1 to reach the women's World Cup final.

Wiegman takes her role as decision maker very seriously, she's scarcely seen without her notepad and pencil, but emphasis is always on the group. It's a pack mentality. A counsel of co-conspirators. And to take personal credit for England's overall achievements simply isn't the Dutchwoman's style.
Maybe it's understandable, then, that Wiegman batted away a question about how she keeps making it to major tournament finals. It's the "we" that concerns her most.
Sky Sports News' Anton Toloui and Gail Davis analyse England's 3-1 win against Australia which secured their spot in the World Cup final

"We've waited so long for a manager like her," retired striker Ellen White said on BBC Sport's live coverage of England's semi-final win. "To bring something different – communication, togetherness and a philosophy England fans can really buy into. She's captured everyone's hearts."
The feeling within camp is similar too. Captain Millie Bright's assessment: "The mentality of this group is something I have never seen before. That comes through Sarina and the belief she gives us."
The ability to consistently, but pragmatically, get the best out of a star-studded squad all with designs on a starting shirt is an art no previous England coach has managed to get right.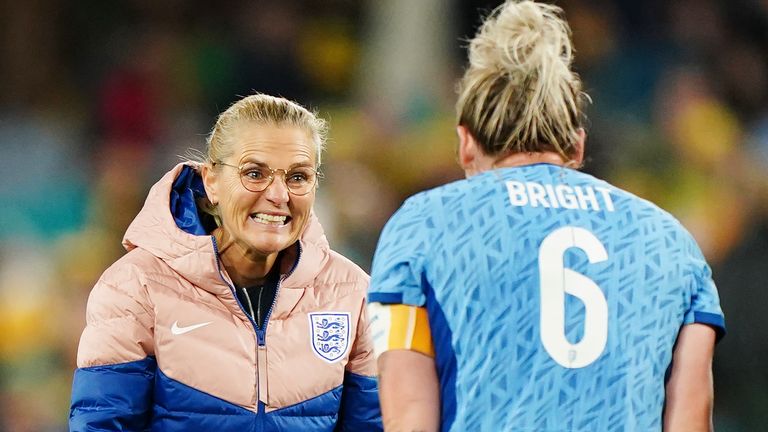 But Sunday's final poses a different dilemma for Wiegman's courageous charges. Much like England, Spain play with the ball. Their strategy centres on ball retention, patterns of possession, and clever passing triangles that force opponents into submission.
One touch, two touch maximum, moving between each action to create a yard of space is their modus operandi. Any women's football fan who regularly watches Barcelona play will recognise the blueprint – nine of the Spanish contingent compete domestically for Barca. They offer style with substance.
And so Wiegman will need to pull another tactical trick from up her sleeve to contain the Iberians, while ensuring England, who also favour possession-based football, do not lose the credo at their core.
The Lionesses have not been without hardship at this tournament. A knee injury threatened to end Keira Walsh's tournament, star girl Lauren James saw red and has been suspended for two games, both Nigeria and Colombia had England on the back foot, while a critical eye has been cast over certain selections and formations.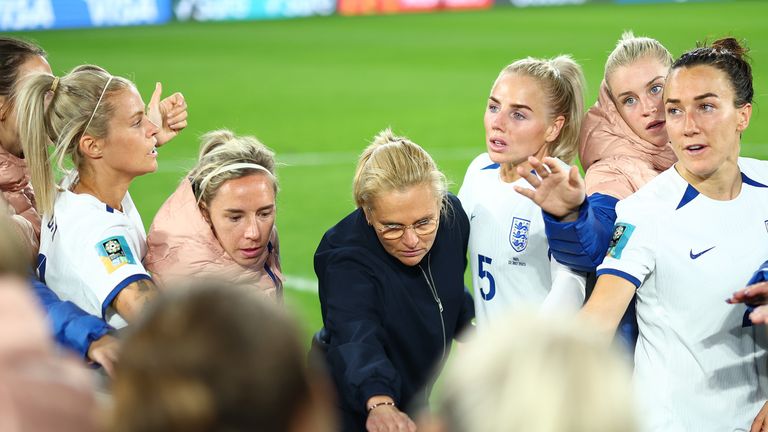 Ultimately, though, each test has been met with stern response. The Wiegman effect. Calm and poise on the sidelines of a pitch breeds composure on it. Then there's the mark of respect all good coaches are accountable for. The ability to play the roles of mum and dad simultaneously, switching between good cop and bad cop – remaining open and approachable, but equally strict and demanding. A coach and a manager.
Comparisons are starting to be drawn between Wiegman and some of the managerial greats. Indeed, she is the outstanding female coach of her generation and, in guiding England to unprecedented success, has already secured a permanent place on this country's honours list.
Aston Villa's Lucy Staniforth, Manchester United's Millie Turner and Brighton's Poppy Pattinson were full of pride after their Lionesses' teammates reached the World Cup final.

Yet, that will offer little comfort to a coach unmotivated by personal accolade. The trophy she wants is spiral-shaped, shiny and golden, with a platform where the name of each nation to hold it aloft is etched. USA, Germany, Japan and Norway all have a place in its history.
Wiegman let the opportunity slip through her fingers once, back in 2019, and she's not the type of character to make the same mistake twice. Far from a revenge mission, though, Wiegman's pursuit is driven by a clarity of thought few football minds can master.
Sarina has the golden touch, and Sunday presents the perfect opportunity to prove it.
Follow all the action live from Sydney in our dedicated match blog on Sunday as England go for gold against Spain; kick-off 11am