Sofie Junge Pedersen was always going to do something. For the last five years, she has dutifully calculated the carbon emissions when travel commitments have required her to fly, always seeking to offset that. This time, Pedersen will have company.
On the eve of the 2023 Women's World Cup, a group of 44 leading players from four different countries have committed to taking responsibility for the environmental impact of their flights to and from the tournament in Australia and New Zealand.
The players are donating money to a combination of climate resilience and carbon-offsetting initiatives. They realise that this is a short-term solution but the hopes are that their actions can build momentum and help to create meaningful change in the long term.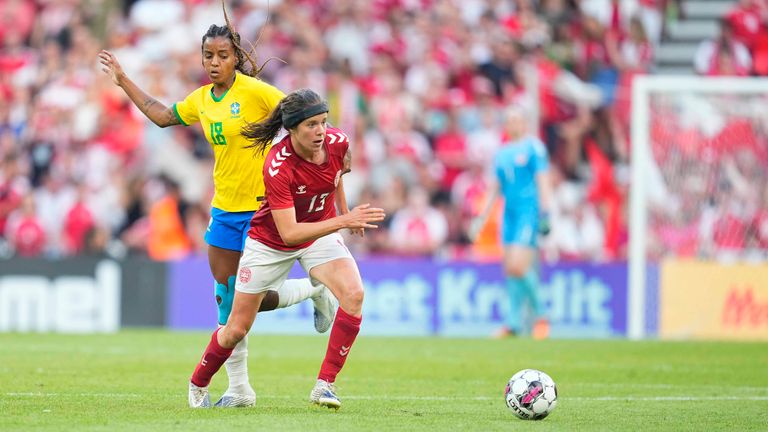 "We are not perfect, that is important to say," Pedersen tells Sky Sports. "I do not think anyone in our part of the world can speak up about climate change and the green transition if everybody who does so has to be carbon neutral. Nobody is in our part of the world.
"But we have to celebrate all climate-friendly actions. That is something we can do and it is important. We want to inspire people."
It is an example of athlete activism that deserves to be celebrated.
As well as calculating her flight emissions, Pedersen has long donated to organisations that plant trees and put up solar panels in vulnerable countries. She does not eat dairy, tries to buy recycled clothes and invests in companies that work on sustainability.
It was through conversations with club and international team-mates that Pedersen decided to broaden the scope. Two presentations to the squads of Juventus and Demark have sparked the biggest player-led climate action in football history.
"I have been very conscious of climate change for many years," she explains. "I did those presentations for my team-mates just to explain what was going on, what the consequences are and what we can do about it because they had been asking me."
Sofie Junge Pedersen discussed the World Cup's carbon footprint with David Garrido in 2021

The positive response from colleagues encouraged Pedersen to go further. "I had explained how much pollution that a flight causes. We were flying to the World Cup and I was certain that more people must be interested in doing something positive on a big stage.
"I presented this idea of offsetting to compensate for our flights just to get a feeling for how people thought about it. Immediately, they were very supportive. 'Oh, this is something we could actually do.' With that huge support, I began working on this campaign."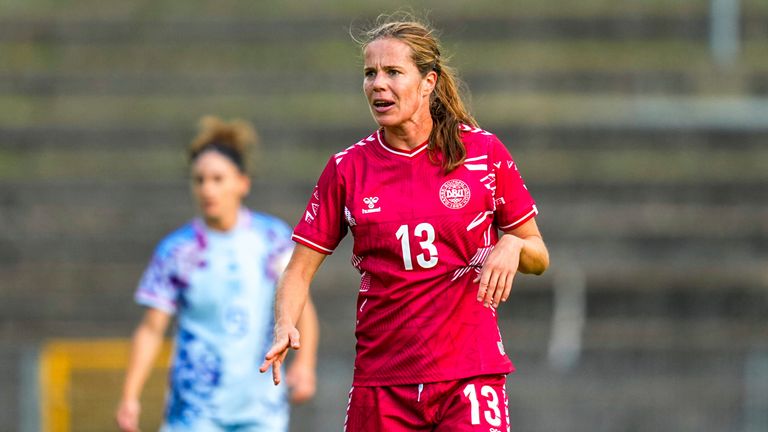 Alongside picking up the phone herself, Pedersen has leaned on her existing networks as a member of Common Goal, the pledge-based charitable movement launched with the support of Juan Mata in 2017, and as a campaigner for Football For Future.
"It was very important for me to have those experts supporting this. We have had a lot of meetings – online meetings! – about how best we could do this, finding the right projects for players to support. We began by contacting those players interested in the climate.
"In the last few months, we have really started reaching out and the support has been amazing from many, many players. We are still open for more people to join when they see the campaign is launched. It would be great for more people to be involved."
High-profile supporters include Canada's Jessie Fleming and Italy's Elena Linari. The chosen charities are focused on repairing landslides in known koala habitats in Australia, coastal habitat restoration in New Zealand and a tree planting initiative in Uganda.
Jessie Fleming, Chelsea and Canada:

"This is a topic I feel passionate about, and I hope this action my teammates and I are taking accelerates the climate conversation and sets a precedent for what athletes can do to push for more environmental policies in football."
Elena Linari, Roma and Italy:

"The fact that this is a player-led initiative is inspiring. Like all players, I am focused on doing the best I can at the World Cup, but I also want to acknowledge that football has an impact on the planet, and most importantly, do something concrete about it. And sharing with people that a 'little' help can be so important for the planet. Together we can change the world."
"It is not the solution that we want in the long term. We need for flights to be sustainable and carbon neutral. But there are a lot of players here who are worried about the climate and I hope that with this campaign we put the focus on the pollution from flights."
With the Olympic Games in Paris next year and the men's World Cup in North America in 2026 predicted to be the most carbon intensive event in the history of the sport, the hope is that the actions of this summer can lead to bigger commitments in the future.
"The most important thing is to avoid the emissions in the first place," insists Pedersen. "I do not think we can say that we have offset it so everything is fine. The most important thing is that we push for the green transition to mitigate climate change.
"But when nations bid for tournaments, it should be as sustainable as possible. That is a message that I hope we can get from this."
About the campaign
The campaign relies on a rigorous and scientific methodology to calculate the environmental impact of the players' flights to and from the World Cup, directly referencing each flight's carbon tonnage.
A key policy objective of the campaign is to inspire governing bodies to make carbon a key criteria in the bidding process for tournaments.
Before all that, there is a World Cup to play. At 31, Pedersen, a veteran of three European Championships with Denmark, can wait no longer for her first taste of the tournament. "The Euros are one thing but I expect this to be even bigger," she says.
"Knowing that this event will get out to so many women and girls around the world means a lot. I am not only playing for my own joy but hopefully many other people's joy around the world."
After the opener against China, England await in Sydney. "That will be a great game, I think." But there are hopes beyond the group. "The round of 16 is the first step. From there it will be one game at a time. We believe in ourselves and we believe we can go far."
For Sofie Junge Pedersen, there are hopes beyond football too.
Any players or other World Cup stakeholders wishing to find out more about how they can take climate action can contact Football For Future or Common Goal