A lot has changed surrounding the US Women's National Team since they defended their World Cup crown four years ago.
A long-running legal dispute with the US Soccer Federation over pay conditions was finally settled late last year with a landmark agreement ruling that for the first time, the squad will enter this tournament knowing they will earn the same financial reward as their male counterparts did at the 2022 Qatar World Cup.
It strikes a far more positive note than some others. Heading to Australia and New Zealand, a cloud still hangs over the American domestic top flight, the NWSL, rocked by a bullying and sexual abuse scandal with the second of two investigations concluding only months ahead of the competition, and finding the league 'systematically failed' to protect players from 'widespread misconduct'.
An official inquiry delivered a damning verdict about a wide variety of failures of leadership and four coaches were eventually handed lifetime bans.
On the pitch, things look very different to 2019 too. Fourteen of the 23-woman squad who will travel to Australia and New Zealand are attending their first World Cup, including 11 with 30 caps or less – compared to five in 2019.
Coach Vlatko Andonovski is another relative rookie and is also heading to his first World Cup, having taken the reins from the legendary Jill Ellis shortly after their triumph in France four years ago.
Some other things have not changed since then. The US are, again, favourites to win a third consecutive World Cup, which would make them the first men's or women's team in history to do so.
They are unbeaten in competitive fixtures since the 2020 Olympic semi-final two years ago, and they qualified for this World Cup by winning the CONCACAF Championship last year without conceding a goal.
A special documentary featuring Jessica Ennis-Hill, Charlotte Edwards and Katherine Grainger examines whether there is a gender bias in kits and equipment used within women's sport

Heading into his first major international tournament, Andonovski is under no illusions about what he's got to bring home.
"The expectations in this job are very clear, we have to win it all," he told ESPN. "It's the same thing with the players. They enter this environment with the mindset that we're going to win every game.
"It's not something we even talk about, this is the type of mentality which was established a long time ago – even before any of these players were established on the team."
Things could be easier for the Macedonian-American, who travels Down Under without seven senior players, including injured captain Becky Sauerbrunn, whose 200-cap experience will be a real loss both on and off the pitch.
He began his reign with a 23-match unbeaten streak but was shattered by a chastening 3-0 loss to Sweden in the first group game of the Tokyo Olympics, where the US faced the rare embarrassment of finding themselves dominated from start to finish.
More recently, they were beaten three times in a row late last year for the first time since the 1990s, including a defeat to newly-crowned Euro 2022 winners England at Wembley in October.
Megan Rapinoe announces her retirement after this year's World Cup and NWSL season

It should be remembered that their trip to Europe came in the immediate aftermath of the initial report into NWSL misconduct. Still, notes of caution about Andonovski's international credentials began to be raised, and specifically whether he had set up the team to learn anything from the international break.
Those questions will resurface with a vengeance should the US falter again during this tournament.
On paper, perhaps there are green shoots of hope for the US' rivals of stopping them from standing alone this summer.
But do not overlook the young charges coming through the ranks Stateside too easily. Andonovski has set a precedent for picking players on form and has carried that into their tournament squad, where he made Savannah DeMelo only the third US player in history to receive a World Cup call-up without a cap to her name.
It is 22-year-old Sophia Smith who is more likely to make headlines though. One of four of the squad born this millennium, she is a sure starter as part of a likely front three and last year was named the NWSL's youngest-ever Player of the Season on the back of scoring 14 goals in 18 games for Portland Thorns.
If you're looking for somewhere to put your money for the Golden Boot there are far worse bets, and no one believes she can do it more than the player herself.
From day one, I'm a winner," she told Fox Sports in a recent interview. "I have to win. It makes me sick to lose anything. Card games, anything. When it comes to soccer, I just find a way."
The national women's team are more popular than they have ever been among the American population and have reason to feel empowered after securing financial parity with their male peers and US Soccer president Cindy Parlow Cone, herself a 157-cap international, as big a champion as anyone.
Serving as the country's top football administrator, after being there and doing it as a player, sets her apart from her predecessors and – despite the logistical predicament it placed on both herself and her organisation – she could not have been more vocal in her support for the women's equal pay deal.
US Soccer Federation president Cindy Parlow Cone discusses pay in the women's game, amid England's bonus row with the FA

"For this day to finally be here, I literally can't put it into words how important this is to me personally," she told ESPN. "But more important, what it's going to mean to the rest of the world – not just here in the US and not just in sports."
That kind of unapologetic positivity towards women's rights and championing equality has won plenty of admirers but also presents the national team with one of their bigger challenges Down Under, from thousands of miles away.
Sections of the US media have been less welcoming than others to their approach. Cast your mind back to the reception that met Megan Rapinoe's decision to follow Colin Kaepernick in taking a knee during the national anthem, for instance.
Barely a week before the tournament starts, one prominent news anchor has made all the headlines he desired by declaring he has "done more for women's sports" than the former captain, despite her significant role in achieving that historic pay parity agreement and her long-standing vocal promotion of women's sport.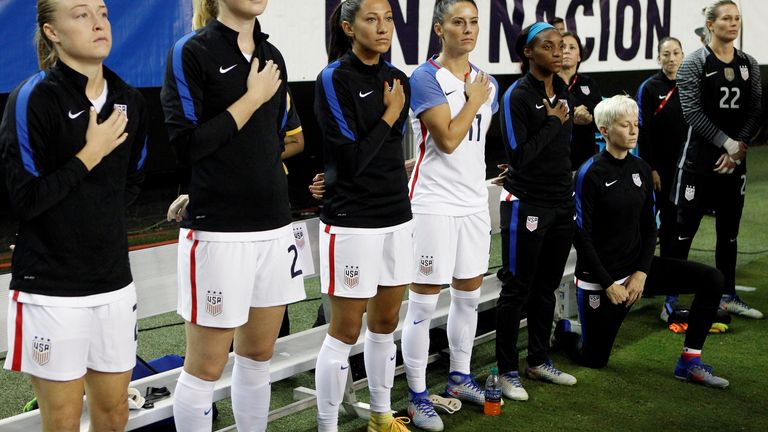 The naysayers will be quietened for a short time at least should the US achieve the previously unthinkable and retain the World Cup for a second time, and it would take a brave doubter to bet against them.
Given the off-field issues they have endured since they took home the trophy in France four years ago, if anyone has shown how to triumph over adversity – it's this group of women.
What is the World Cup schedule?
The group stage will begin on July 20 and run over a two-week period finishing on August 3 and see group winners and runners-up progress to the round of 16, which takes place from August 5 to August 8.
The quarter-finals, which will be held in Wellington, Auckland, Brisbane and Sydney, are scheduled for August 11 and 12.
The first semi-final will then be played on August 15 in Auckland, with the other semi-final taking place on August 16 at the Accor Stadium in Sydney, which will then host the final on August 20.
A third-place play-off will be played the day before the final on August 19 in Brisbane.